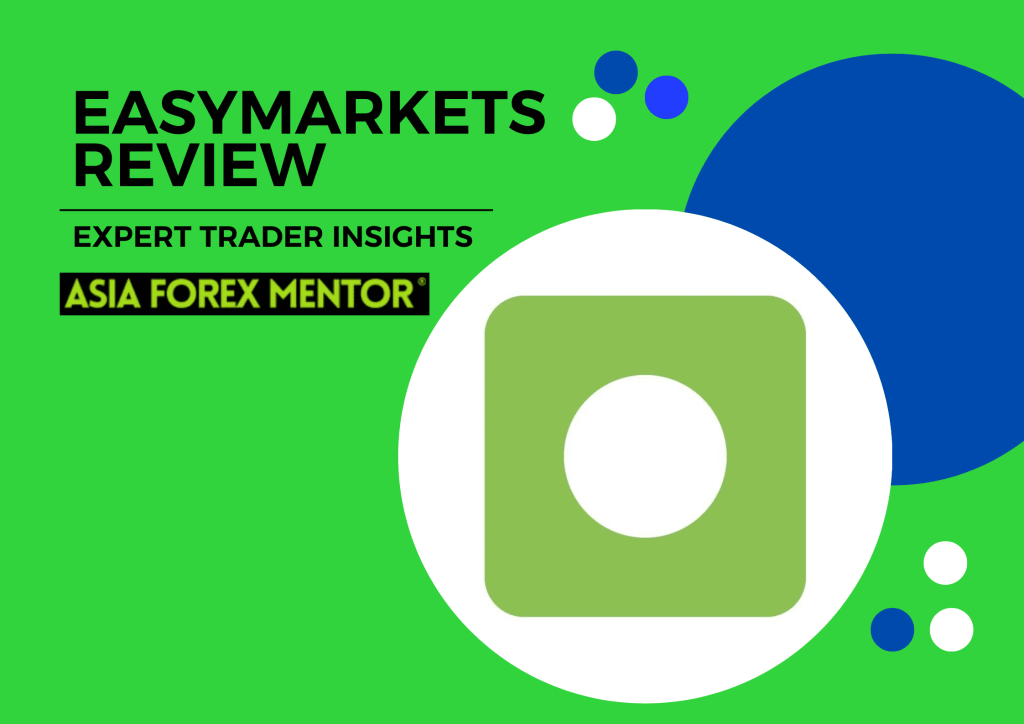 EasyMarkets Review
The financial market is full of opportunities for everyone; therefore, most people are turning toward investments in various underlying assets for profitable trading. However, the role of a brokerage firm is equally essential for successful trading as a trader or investor. In this regard, traders and investors always look for experienced brokers as trading partners. Hence, EasyMarkets is one such accomplished brokerage company that has gain trust of traders and has made its position among the most time-served brokers.
EasyMarkets is known for offering a wide range of asset classes for traders and investors as well. From forex trading, Stocks, commodities, Indices, CFD, and Cryptocurrencies, there are many options for trading with EasyMarkets. Similarly, there are a variety of instruments for all types of traders, whether short-term day traders or long-term investors.
This EasyMarkets review aims to put across all the services, tools, and features offered on this trading platform. Starting from the origin of this firm, all the benefits, drawbacks, and trading account features are discussed in this review.
Furthermore, to help traders and investors make an informed decision before choosing EasyMarkets as their online broker, this review also presents the analysis of financial experts, researchers, and, most importantly, the customers of this trading platform. In this way, it would be easier for individuals to make their investments wisely and earn significant profits.
What is EasyMarkets?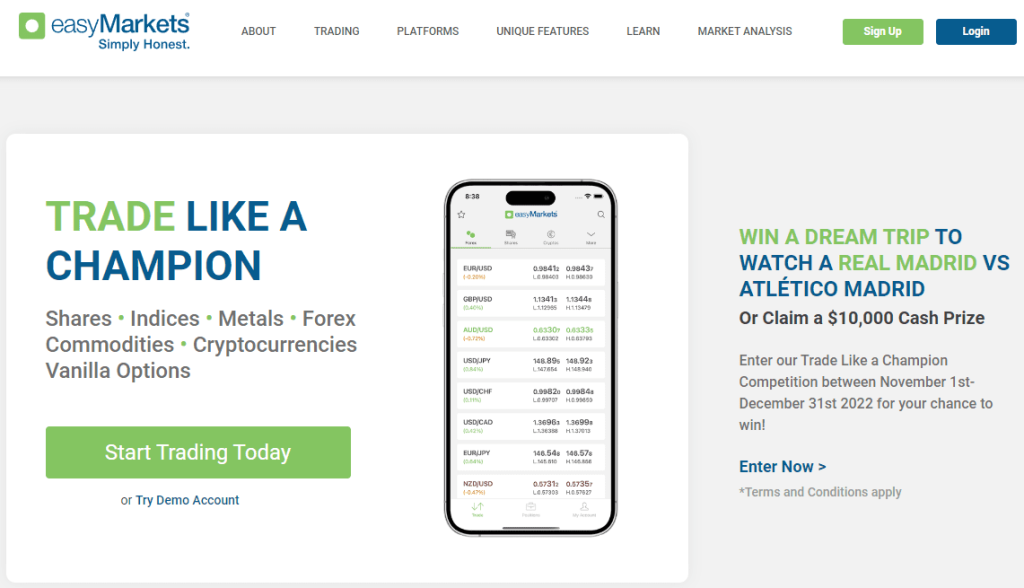 EasyMarkets is a trading firm that provides brokerage services to its customers. Started in the year 2001, this firm has been in the market for more than 20 years. Moreover Easymarket is also considered to be a safe broker as it is regulated by many financial commission including the Australian Securities and Exchange Commission (ASIC) since 2005. Similalrly, it is also licensed as Easy forex trading ltd under the Cyprus Securities and Exchange Commission (CySEC) since 2007.
EasyMarkets is a reliable platform for all kind of traders and investors be it novice traders or seasoned investors. Additionally, what makes EasyMarkets a better choice than others is its easy to use interface with simple design making it less complicated for new traders. Along with these there are some features that are offered by EasyMarkets for free where other brokers charge a fee. These features include the option of negative balance protection, deal cancelation, freeze and Garaunteed stop-loss order GSLO.
EasyMarkets is an online brokerage firm that can be seen as among the pionnerrs of the trading industry. Yet the company has not evolved with the technological advancements and other technical features that other brokers are offering to its customers. Therefore, EasyMarkets is a safe and trustworthy name for investments however, it lacks in providing the premium trading services that is demanded specifically by the professional and long-term investors.
Advantages and Disadvantages of Trading with EasyMarkets
Benefits of Trading with EasyMarkets

There are many benefits of choosing EasyMarkets as a trading broker. The broker comes with a lot of experience in the trading industry and so traders can rely on this broker for investments. With more than two decades of professional serving-time in the market, this broker comes with complete know-how of the financial field. Hence, traders can make most of the veteran trading partner.
Another advantage of trading with EasyMarkets is that there are many options of asset classes that is offered on this trading platform including Forex trading, Indices, Commodities and even Cryptocurrencies. However, even with 256 trading instruments, EasyMarkets is considered to be among the brokers with limited asset offerings.
One more benefit of EasyMarkets is that due to strong competition from other counterparts, this broker highlights its services by offering various trading features free of charge for their customers. These features include deal cancellation where traders can cancel deals if there are any lapse or doubts in their trading decisions. This feature is time bound and can only be utilised for a certain duration.
Another feature is of order Freeze, here also trades can pause the order for 3 seconds before market executions. Similarly, the GSLO which is a stop loss order limiting the losses of traders and so is negative balance protection. All these features are particularly useful for novice traders who are at a learning stage and need support from the broker to manage their losses and provide assistance during order execustions.
Finally, the biggest concecner of traders and investors regarding any brokerage firm is its legitimacy. Since people invest their hard-earned money and trust the broker for all their dealings, it is important to make sure that the broker is reliable. Therefore, Easymarkets is one firm that can be trusted as it is regulated by a 1 tier financial commission and is also licensed by other jurisdictions, making it a valid and authentic online broker in the market.
EasyMarkets Pros and Cons

PROS
Regulated by 1 tier jurisdiction
Easy to use interface
Multiple withdrawal methods
Availability of various useful trading tools
CONS
No special features for big investors
No PAMM accounts
Analysis of the Main Features of EasyMarkets
2.7 Investment Instruments
2.6 Variety of Instruments
EasyMarkets Customer Reviews
The performance of trading platforms can only be accurately assesed through the reviews and feedback of its customers. Therefore, to better understand the gainfullness and profitability of Easymarkets, we have examined the reviews of customers from multiple forums.
Based on the customer reviews it was observed that the customers overall appreciated the services of Easymarkets as an online broker. Usually customers prefer broker services that provides prompt customer support which is easy to access and provides needful assistance on time. As a result, the clients of Easymarkets specifically praised the customer care department where all queries were answered in timely manner.
Other than this, there were also approvals from the client regarding the fast and easy withdrawals and easy-to-use interface specially for new entrants who are struggling with the trading activity. Similarly, various account types offered by this broker is also something that makes trading easier for different kinds of traders and investors.
EasyMarkets Spreads, Fees, and Commissions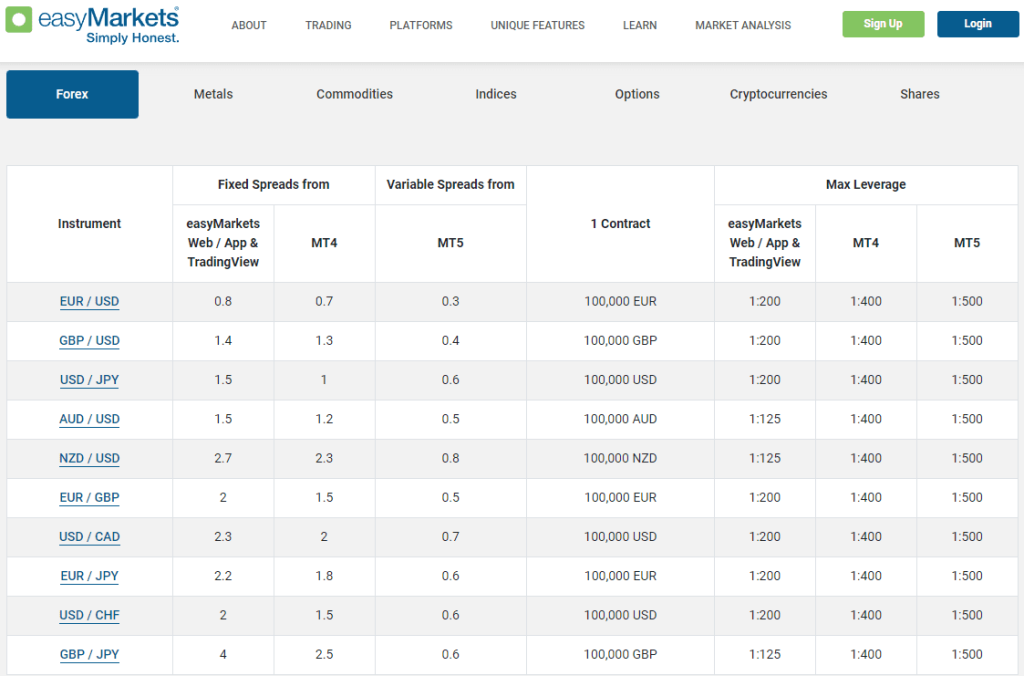 Most of the proprietary trading platforms are favoured by the traders and investors depending on the spread value that is offered. As low spreads leads to higher profits for the traders due to minimum difference of the ask and bid price, traders always go for brokers with low spreads.
EasyMarkets provides tight spreads stating from 0.03 pips which varies according to the various account types as well as trading instruments. For VIP accounts the spread is lowest at $ 0.03 whereas premium and standard account holders get $0.04 and $0.05 respectively. The spread value is not fixed at it also varies according the trading instruments.
Another plus of EasyMarkets is that it offers commission free services to its customers depending on the trading account. Similarly, the overall trading cost of this broker is lower than many other trading platforms.
There is no account fee, withdrawal fee, deposit fee or other additional fee that is charged by the EasyMarkets platform. The only requirement is of the initial deposit funds that is compulsory to pay before start opening an account with this broker.
How EasyMarkets Fees Compare to other Brokers
Account Types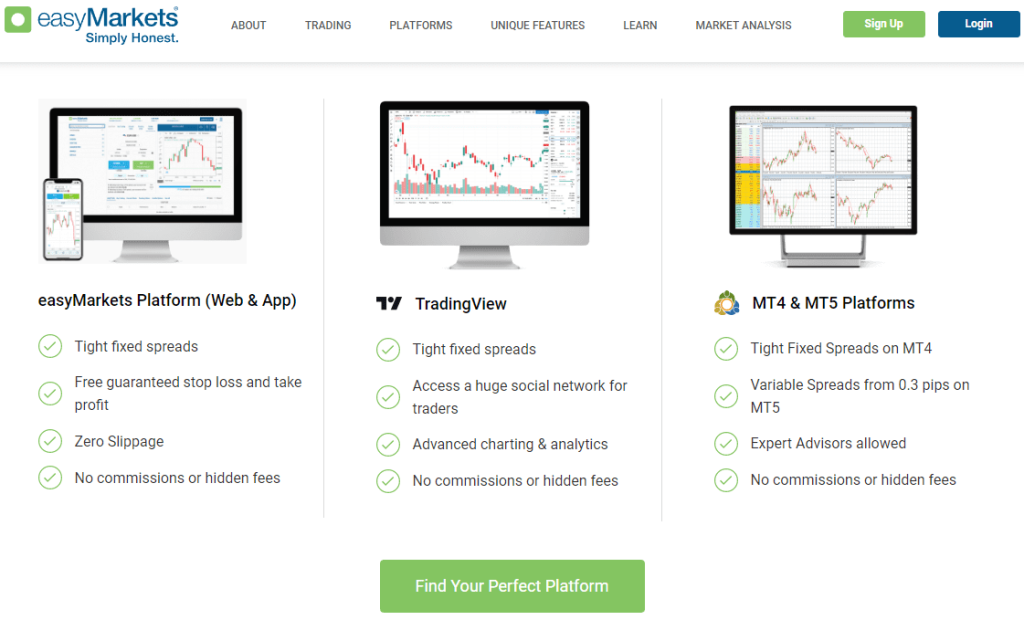 With EasyMarkets trading platform, users can open three different types of account depending on their budget and trading styles. Each account type is different and is customized according to the needs of all categories of traders and investors.
Standard Account
The first account type is he standard account that is aimedspecifically for new or inexperienced traders. The requirement of minimum deposit for this account is $ 100 keeping in mind the capital constraints of novice traders. Furthermore, there are no commission fees or withdrawal fees keeping the trading costs minimal.
The spreads offered in the standard account type is also low starting from 0.5 pips this enable traders to earn significant profits. Moreover, for the technical assistance of traders there is also support from personal account manager providing fundamental and technical analysis.
Premium Account
For the premium account, the minimum deposit requirement is $2000 which is much higher than the standard account. However, through this account traders can get access to narrower and fixed spreads starting from 0.4 pips and maximum leverage up to 1:500.
In this account traders get support from the manager against market volatility through technical analysis and risk management strategies. Similarly, there is customer support available 24/5 without any additional fees or charges.
VIP Account
The VIP account is the best account type among all trading accounts for forex trading as it provides the tightest spreads and fast order executions for the traders. The requirement of minimum deposit is highest at $ 10,000 with leverage up to 1:30 for major currency pairs and 1:20 for minor currency pairs. Moreover, Easymarkets provide all major forex pairs which makes VIP account the ideal option for professional traders.
The assistance that traders and investors get by opening a VIP account includes trading signals, trading charts, market news, no slippage and a personal account manager. The trading platform available for this account is the EasyMarkets proprietary trading platform, Meta trader 4 and Trading view.
How To Open Your Account?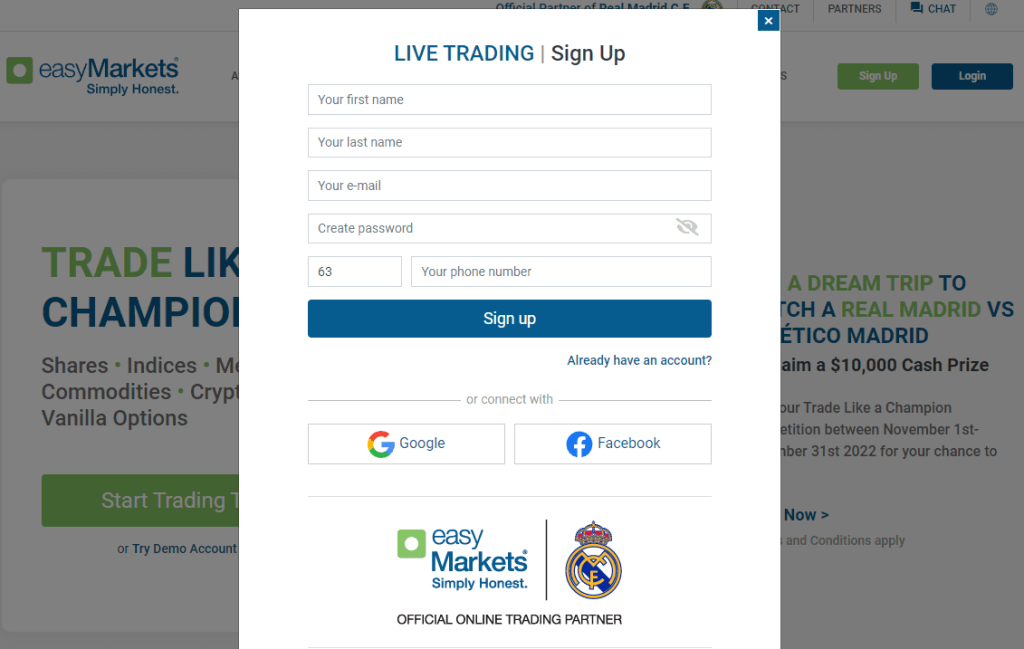 Opening an account on the EasyMarkets platform is quite simple. The first step is to open the official website on any browser. To start the registration process, user can click on the sign-up tab that is present on the right corner of the website landing page.
The next step is to fill in the registration form that will pop up after clicking the sign up button. The user will have to provide information regarding name, email, phone number and then create a password for the account to log in.
After verification of the password the user will be redirected to provide their nationality information.
After providing all the relevant and verified personal information successfully, the registration process will be completed and the user will be able to access the Easymarkets platform through their trading account. However, at this stage the user can either choose a demo account and start a replicated trading experience or can deposit the required initial funds and start live trading direrctly.
What Can You Trade on EasyMarkets
EasyMarkets offers a web platform for trading in various underlying assets. These includes CFD trading in forex, Indices, commodities including oil and precious metals and also trading in Cryptocurrencies. Even when compared to other top-notch brokerage platforms, EasyMarkets does not provide a wide range of trading instruments however, all strong asset classes are available on the EasyMarket Platform.
In forex trading more than 62 major and minor currency pairs are offered for trading. Similalry for Cryptocurrencies CFD there are more than 17 option available for customers. Moreover, there are 14 plus indices and more than 31 options for commodities CFD trading. Among these trading instruments, users cannot just only rely on CFDs but they can also opt for options or forward contracts based on their trading needs.
Another trading feature on EasyMarkets which makes the firm a unique broker from others is its vanilla trading option. In this option traders have the choice to buy or sell any underlying asset without any special requisites or predetermined date for a limited time span. This option allows customers of EasyMarkets to gain profit and cover their losses easily.
EasyMarkets Customer Support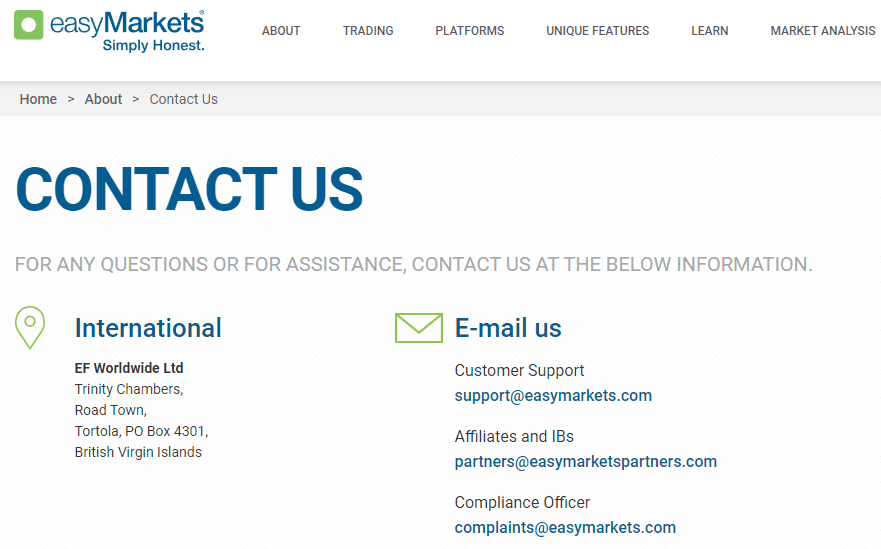 The customer suport service of any trading platform serves as a backbone of the company. Therefore while doing the EasyMarkets review, specially attention was given to its customer support services to analyse its impact.
Overall it was observes that EasyMarkets also has a satisfactory customer support service for its clients. There are multiple methods available to contact the support staff including email,live chat box on the website and a toll free number specifically for its Australian customers. Along with these options, customers can also contact EasyMarkets team through social media platform including facebook, twitter and telegram accounts.
It was also analysed that the customer support team was prompt and quick to provides responses to its customers, Moreover, there is technical staff as well as financial experts available in the customer support team that provides instant replies to the customer's queries. However, one drawback of the customer suport is that it is available 24/5 and not on weekends.
Advantages and Disadvantages of EasyMarkets Customer Support
Contacts Table
Security for Investors
Withdrawal Options and Fees
While reviewing the feedback from the customers, a majority of the customers were pleased with the withdrawal procedure of EasyMarkets. These review specifically mention how their withdrawal request was proceeded instantly without any delays or obstructions.
Furthermore, there are also various EasyMarkets payment methods available for the convenience of the customers so that they can withdraw money without any hazards. Thesepaymments options include credit and debit card options, bank transfer and all major online payment methods and e-wallets.
The list of online payments methods include Neteller, Skril, Fast pay, Sofort, among many others. The credit and debit card option includes all Master, Visa, American Express and Maestro cards. Along with these, regional bank transfer options are also available worldwide.
The withdrawal fees for each payment option at EasyMarkets is zero. However bank transfers and online payment may include third-party charges which are applied by the payment mediator platform. Additionally, For online payments and e-wallets there is no minimum fund requirement however for bank transfer a minimum transaction of $ 50 is deemed compulsory.
EasyMarkets Vs Other Brokers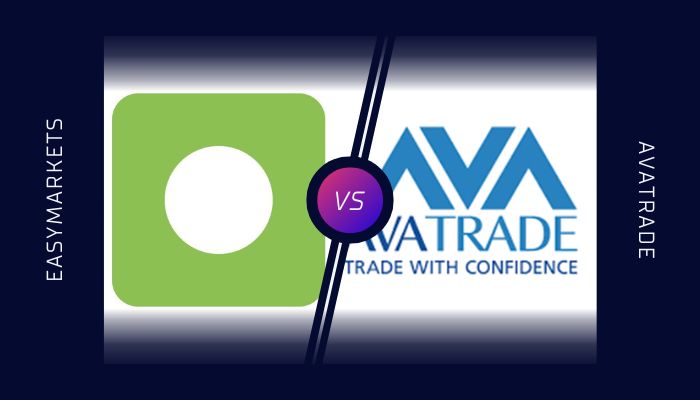 Avatrade is also brokerage firm that has been in the industry for quite some time however, it cannot beat the experience of Easymarkets in the financial domain. EasyMarkets is considered to be the first online platform to assist in online trading and challenged the traditional concept of onsite brokerage services.
The experience of EasyMarkets has helped the firm in providing the adequate brokerage service to their customers in all types of trading conditions. However, in some aspects easymarkets, has not been able to evolve as its other competitors like Avatrade. In this regard, Avatrade outrun EasyMarkets with its advanced features like copy trading, charting, advanced technical analysis and latest trading platform including MT5.
Regardess ofthese features, EasyMarkets can still compete with its peers like Avatrade as it is very much appraised and favoured by new and inexperienced traders for its easy-to-use interface, security and protection of funds, reliable customer support services and most importantly its unique features such as deal cancellation, GSLO, and Freeze etc.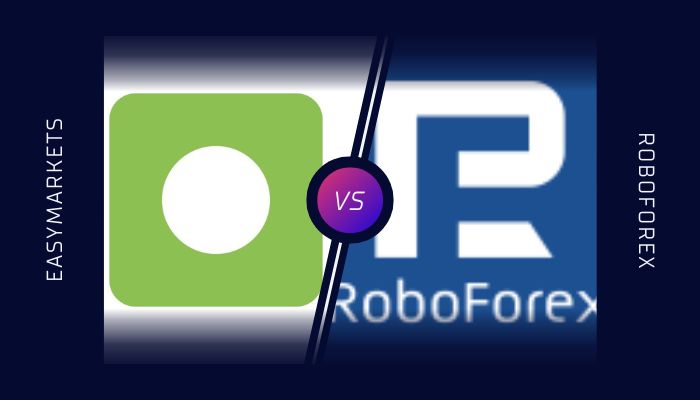 By offering tighet spreads starting from 0.0 pips, fast market executins and lowerst minimum deposite requirements, Roboforex is every trader's favourite. Moreover, with higest leverage of 1:200 and the profitable feature of copy trading, Roboforex is certainly ahead of EasyMarkets in the trading game.
Nevertheless, some features of EasyMarkets are significant in makingthe firm stand out from many other brokerage services including free guaranteed stop loss, no slippage and free negative balance protection which is provided by Roboforex after charging a fee.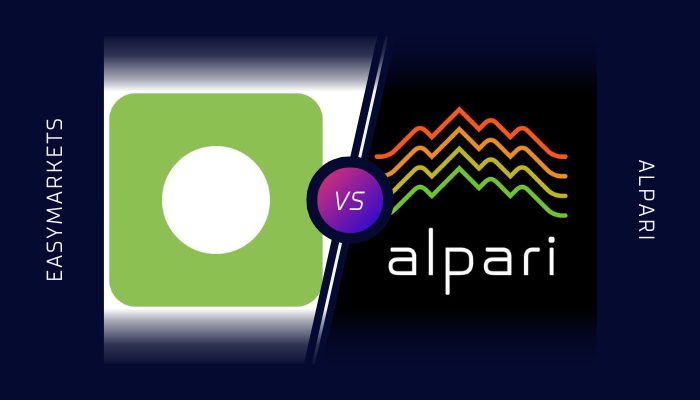 EasyMarkets and Alari shares many common trading features such as same options of trading instruments, similar replishment or withdrawal methods, fast order executions and more than 20 years in the brokerage industry.
However there are also many difference where some benefits are affiliated with Alpari and some gives an edge to EasyMarkets. For instance, Alpari do not offer trading in Cryptocurrencies and it is also not regulated or licensed by any 1 tier financial commission.
On the other hand, Alpari provides options of multiple account types including STP and ECN accounts for its customers. Additionally, Alpari has the lowest minimum deposit requirement of $ 1 at the same time offers investment options for passive traders.
How EasyMarkets Trading Options Compare against other Brokers
Conclusion: EasyMarkets Review
EasyMarkets was established in the year 2001 and it has served more than 20 years as a brokerage company. Moreover, EasyMarkets not only displays their experience but also emphasizes on its being the among the first broker to support online trading for traders at the lowest cost starting from $ 25.
In addition to this, EasyMarkets is a market maker trading platform that is owned by the Easy forex trading company and is licensed by multiple regulatory bodies including the ASIC and CySEC. A properly regulated trading firm means that there is assurance of data and funds security for the customers.
Contrary to these positive aspects of the firm there are aso some drawbacks of EasyMarkets. Firstly, EasyMarkets has been unsuccesssful in keeping up with the fast pace technological advancements on its platforms for this reason advanced features like automaed trading, copy trading, advanced technical analysis and VPS services, etc. Moreover, the higheverages and tighest spreads starting from 0.0pips which is offered by some other brokerage services also lack with EasyMarkets trading patform.
Nevertheless, ther are some uniques features of EasyMarket which is not provided by any of its counterparts and is most appreiated by the new traders andinvestors. These features include deal cancellations, No slippage, Freeze rate, and Guaranteed stop loss order GSLO.
All in all, we can say that EasyMarkets is a commendable trading platform for all types of traders and investors. As it provides with all the basic tools, strategies, trading options and required assistance regardless of the different trading styles of the individuals.
EasyMarkets Review FAQs
Is EasyMarkets legit?
Yes EasyMarkets is a legitimate firm as a market maker providing the satisfactory online trading experience to its customers. EasyMarkets has ben in the trading industry since more than 2 decades and has been considered as the pioneer of online trading.
Is EasyMarkets regulated?
Yes EasyMarkets is a reliable proprietary trading platform that is regulated by the 1 tier Australian ASIC regulator as well as the Cyprus Securities and Exchange Commission CySEC. Not only this, EasyMarket is also licensed by two other financial commissions of Seychelles and British Virgin Islands.
Thee license from these regultors is a sign that EasyMarkets is monitored by various regulatory bodies tat provides protections to customers data and funds.
Source link