UK CPI Key Points:
UK CPI Declined to 10.7% Annually, Down from 11.1% in October.

The Largest Contribution to the Decrease Came from

Cost of Transport (7.2% vs 8.9%), Particularly Motor Fuels (17.2% vs 22.2%) and Second-Hand Cars (-5.8% vs -2.7%).

The Annual Core Rate Declined to 6.3% Vs 6.5% Expected.
Recommended by Zain Vawda
Get Your Free GBP Forecast
The CPI and Forex: How CPI Data Affects Currency Prices
UK inflation declined in November beating estimates and following last month's record high print. The core rate of inflation dropped to of 6.3% while consumer prices dropped to 0.4% on a month-to-month basis, well below the 2% recorded in October.

Customize and filter live economic data via our DailyFX economic calendar
Individual Sectors
Breaking the inflation print down sector by sector, the largest contributors to the decline came from cost of transport (7.2% vs 8.9%), particularly motor fuels (17.2% vs 22.2%) and second-hand cars (-5.8% vs -2.7%). Prices also slowed in clothing and footwear (7.5% vs 8.5%), recreation and culture (5.3% vs 5.9%) and communication (2.6% vs 3.2%). On the flip side annual inflation for restaurants and hotels are at their highest since December 1991 having increased to 10.2% (vs 9.6%), mainly pushed by alcohol served in restaurants, cafes and pubs, making the biggest upward contribution. Food inflation meanwhile, edged higher to 16.5% from 16.4%, hitting the strongest since 1977, led by cost of bread and cereals. Rentals for housing increased 4.5%, slightly above the 4.3% in October.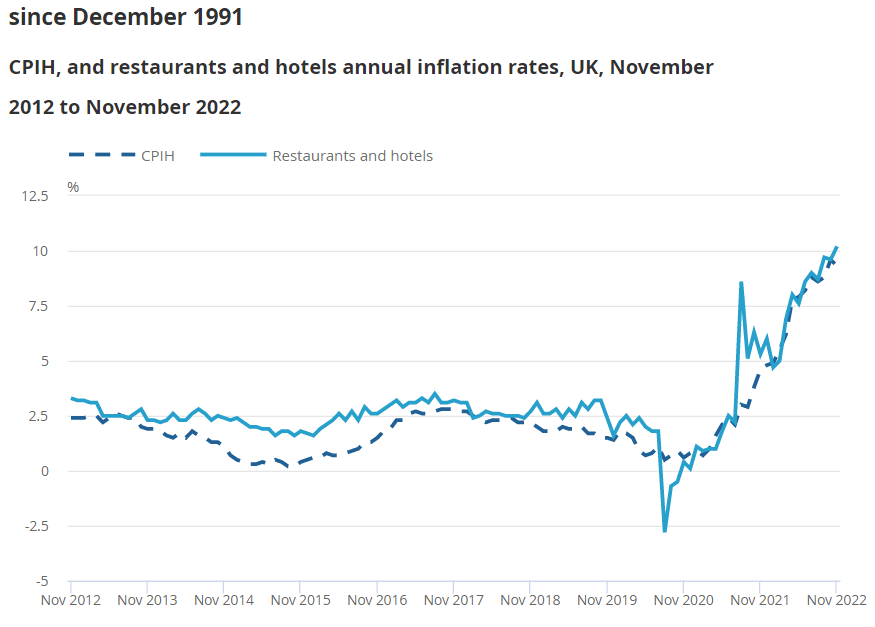 Following positive GDP data on Monday, UK Chancellor Jeremy Hunt warned that the economy could get worse before it gets better. While yesterday's employment data came in largely positive it did indicate a slowdown in hiring as businesses brace for a tough start to 2023. Wage growth (YoY) hit a high which added further challenges for the BoE as it looks to balance recessionary concerns with the rising cost of living. The Bank of England released its Financial Stability Report Yesterday warning that 2023 will prove challenging for UK households due to a combination of falling real incomes, increases in mortgage costs and higher unemployment.
Recommended by Zain Vawda
How to Trade GBP/USD
The Bank of England (BoE) meet tomorrow with market consensus for a 50bps hike, as the BoE attempt to manage the risk of runaway inflation against the cost-of-living crisis. Today's inflation beat will alleviate some of the pressure on the BoE and a 50bps hike should be a mere formality. The comments and guidance provided by Governor Bailey may provide clues as to the way forward which could see a spike in volatility.
Market reaction
GBPUSD 15M Chart
Source: TradingView, prepared by Zain Vawda
Initial reaction was a 15pip spike lower for GBPUSD. Cable enjoyed a stellar day yesterday breaking a three-day trading range as the US dollar suffered. A new high has been printed around 1.24400 and looking at the recent rally we could be in for some retracement. This will no doubt depend on the tone adopted by the US Federal Reserve later today with a hawkish statement likely to push the pair lower. Alternatively, any dovish comments could see the pound push on, and GBP/USD test the 1.25000 level which coincides with the 61.8% fib level (2022 high to low).
IG CLIENT SENTIMENT DATA: MIXED
IGCS shows retail traders are currently SHORT on GBP/USD, with 59% of traders currently holding short positions. At DailyFX we typically take a contrarian view to crowd sentiment, and the fact that traders are short suggests that prices could GBP/USD may continue rise.
— Written by Zain Vawda for DailyFX.com
Contact and follow Zain on Twitter: @zvawda
element. This is probably not what you meant to do! Load your application's JavaScript bundle inside the
element instead. are evaluated with each page change. For more information, see: https://turbo.hotwired.dev/handbook/building#working-with-script-elements —— Suppress this warning by adding a "data-turbo-suppress-warning" attribute to: %s `,element.outerHTML)})(),window.Turbo=Turbo,start();Turbo=Object.freeze({__proto__:null,PageRenderer:PageRenderer,PageSnapshot:PageSnapshot,clearCache:clearCache,connectStreamSource:connectStreamSource,disconnectStreamSource:disconnectStreamSource,navigator:prototype,registerAdapter:registerAdapter,renderStreamMessage:renderStreamMessage,session:session,setConfirmMethod:setConfirmMethod,setProgressBarDelay:setProgressBarDelay,start:start,visit:visit});function createSingleton(removeOnTurboVisit=!1){return function(target,name,descriptor){const original=descriptor.value;return descriptor.value=(...args)=>{var _a;window.DFX_SINGLETONS=null!=(_a=window.DFX_SINGLETONS)?_a:{};const instanceId=target.prototype.constructor.name+":"+name;if(removeOnTurboVisit){const turboCallback=()=>{window.DFX_SINGLETONS[instanceId]&&(window.DFX_SINGLETONS[instanceId]=null),document.removeEventListener("turbo:visit",turboCallback)};document.addEventListener("turbo:visit",turboCallback)}return window.DFX_SINGLETONS[instanceId]||(_a=original.apply(this,args),Object.defineProperty(window.DFX_SINGLETONS,instanceId,{value:_a,writable:!0}),_a)},descriptor}}class DfxLocalStorageCookieManager{constructor(localStorage){this.localStorage=localStorage,this.localStorage=localStorage;try{this.localStorage.setItem("test","test"),this.localStorage.removeItem("test"),this.isLocalStorageAvailable=!0}catch(e){this.isLocalStorageAvailable=!1}}getCookie(name){return(name=name&&document.cookie.match(new RegExp(`(?:^|; )${name.replace(/([.$?*|{}()\[\]\\\/+^])/g,"\\$1")}=([^;]*)`)))?decodeURIComponent(name[1]):void 0}setCookie(name,value,expires,domain,secure=!0){let cookieString=name+"="+value;"string"==typeof expires&&(cookieString+=";expires="+expires),"string"==typeof domain&&(cookieString+=";domain="+domain),cookieString+="; path=/",secure&&"https:"===location.protocol&&(cookieString+="; secure"),document.cookie=cookieString}deleteCookie(name){this.setCookie(name,"","Thu, 01 Jan 1970 00:00:00 UTC")}getLocalStorageOrCookie(name){var _a;return this.isLocalStorageAvailable&&null!=(_a=this.localStorage.getItem(name))?_a:this.getCookie(name)}setLocalStorageOrCookie(name,value,expires,domain){this.isLocalStorageAvailable?this.localStorage.setItem(name,value):this.setCookie(name,value,expires,domain)}deleteLocalStorageOrCookie(name){this.isLocalStorageAvailable?this.localStorage.removeItem(name):this.deleteCookie(name)}}var __defProp$5=Object.defineProperty,__getOwnPropDesc$5=Object.getOwnPropertyDescriptor;class DfxLocalStorageCookieManagerFactory{static create(){return new DfxLocalStorageCookieManager(window.localStorage)}}((decorators,target,key,kind)=>{for(var decorator,result=1
=level}normalizeValue(value){let intValue=parseInt(value);return intValue=isNaN(intValue)?3:intValue}}var __defProp$4=Object.defineProperty,__getOwnPropDesc$4=Object.getOwnPropertyDescriptor;class DfxGdprCheckerFactory{static create(){return new DfxGdprChecker(DfxLocalStorageCookieManagerFactory.create())}}((decorators,target,key,kind)=>{for(var decorator,result=1new Promise((resolve,reject)=>{var fulfilled=value=>{try{step(generator.next(value))}catch(e){reject(e)}},rejected=value=>{try{step(generator.throw(value))}catch(e){reject(e)}},step=x=>x.done?resolve(x.value):Promise.resolve(x.value).then(fulfilled,rejected);step((generator=generator.apply(__this,__arguments)).next())});const COUNTRIES_TO_REPLACE_MAP=new Map([["GB","UK"]]);class DfxGeoLocation{constructor(geoJsUrl,dfxLocalStorageCookieManager){this.geoJsUrl=geoJsUrl,this.dfxLocalStorageCookieManager=dfxLocalStorageCookieManager}init(){return __async$2(this,null,function*(){var redirectData=yield this.getRedirectData();COUNTRIES_TO_REPLACE_MAP.has(redirectData.country)&&(redirectData.country=COUNTRIES_TO_REPLACE_MAP.get(redirectData.country)),this.redirectData=redirectData,this.setBodyClasses().setLocationToStorage()})}getRedirectData(){return __async$2(this,null,function*(){var redirectData;return this.redirectData||((redirectData=this.getLocationFromStorage())?(this.redirectData=redirectData,this.redirectData):this.loadRedirectData())})}loadRedirectData(){return new Promise(resolve=>{var script=document.createElement("script");script.onload=()=>{this.redirectData=window.redirectData,resolve(this.redirectData)},script.setAttribute("src",this.geoJsUrl),document.head.appendChild(script)})}setBodyClasses(){const countryCode=this.redirectData.country.toLowerCase();return document.body?(document.body.classList.remove("dfx-country-pending"),document.body.classList.add("dfx-country-"+countryCode)):document.addEventListener("DOMContentLoaded",()=>{document.body.classList.remove("dfx-country-pending"),document.body.classList.add("dfx-country-"+countryCode)},!1),this}getLocationFromStorage(){var expiresIn=this.dfxLocalStorageCookieManager.getLocalStorageOrCookie("dfx-redirectData_expiresIn");return!!(expiresIn&&parseInt(expiresIn)>Date.now())&&JSON.parse(null!=(expiresIn=this.dfxLocalStorageCookieManager.getLocalStorageOrCookie("dfx-redirectData"))?expiresIn:"false")}setLocationToStorage(){var date=new Date;return date.setTime(date.getTime()+6048e5),this.dfxLocalStorageCookieManager.setLocalStorageOrCookie("dfx-redirectData",JSON.stringify(this.redirectData),date.toUTCString()),this.dfxLocalStorageCookieManager.setLocalStorageOrCookie("dfx-redirectData_expiresIn",""+date.getTime(),date.toUTCString()),this}}var __defProp$3=Object.defineProperty,__getOwnPropDesc$3=Object.getOwnPropertyDescriptor;class DfxGeoLocationFactory{static create(){return new DfxGeoLocation(window.DFX_ENDPOINTS.geoJs,DfxLocalStorageCookieManagerFactory.create())}}((decorators,target,key,kind)=>{for(var decorator,result=1{this._resetAssetClasses()._resetInstruments()._resetCategories()})}_setDefaultStates(){return this.baiduState=STATES.OFF,this.pixelState=STATES.OFF,this.gptState=STATES.OFF,this.gtmState=STATES.OFF,this.taboolaState=STATES.OFF,this}_resetInstruments(){return this.gptInstrumentPairs=new Set,this}_resetCategories(){return this.gptCategories={category:"",subCategory:""},this}_resetAssetClasses(){return this.gptAssetClasses=new Set,this}createFacebookPixel(){var loadCallback,b,e,n,f;return this.dfxGdprChecker.checkLevel(3)&&this.allowedTrackingsConfig[TRACKINGS.FACEBOOK_PIXEL]&&this.pixelState===STATES.OFF&&(this.pixelState=STATES.LOADING,loadCallback=()=>{this.pixelState=STATES.READY},f=window,b=document,e="script",f.fbq||(n=f.fbq=function(){n.callMethod?n.callMethod.apply(n,arguments):n.queue.push(arguments)},f._fbq||(f._fbq=n),(n.push=n).loaded=!0,n.version="2.0",n.queue=[],(f=b.createElement(e)).async=!0,f.onload=loadCallback,f.src="https://connect.facebook.net/en_US/fbevents.js",(loadCallback=b.getElementsByTagName(e)[0]).parentNode.insertBefore(f,loadCallback)),this.fbq=window.fbq,this.fbq("init",this.facebookPixelId)),this}facebookPixelTrack(type){return this.dfxGdprChecker.checkLevel(3)&&this.allowedTrackingsConfig[TRACKINGS.FACEBOOK_PIXEL]&&(this.pixelState===STATES.OFF&&this.createFacebookPixel(),this.fbq("track",type)),this}facebookPixelTrackPageView(){return this.dfxGdprChecker.checkLevel(3)&&this.facebookPixelTrack("PageView"),this}facebookPixelTrackLead(){return this.dfxGdprChecker.checkLevel(3)&&this.facebookPixelTrack("Lead"),this}createGTM(){if(this.dfxGdprChecker.checkLevel(1)&&this.allowedTrackingsConfig[TRACKINGS.GTM]&&this.gtmState===STATES.OFF){this.gtmState=STATES.LOADING;const scriptOnload=()=>{this.gtmState=STATES.READY};var w=window,d=document,s="script",l="dataLayer",i=this.tagManagerId,p=this.tagManagerParams;w[l]=w[l]||[],w[l].push({"gtm.start":(new Date).getTime(),event:"gtm.js"}),w=d.getElementsByTagName(s)[0],(l=d.createElement(s)).async=!0,l.src="https://www.googletagmanager.com/gtm.js?id="+i+p,l.onload=scriptOnload,w.parentNode.insertBefore(l,w)}return this}createTwitterPixel(){var n,s,e,t;return this.dfxGdprChecker.checkLevel(3)&&this.allowedTrackingsConfig[TRACKINGS.TWITTER_PIXEL]&&(e=window,t=document,n="script",e.twq||((s=e.twq=function(){s.exe?s.exe.apply(s,arguments):s.queue.push(arguments)}).version="1.1",s.queue=[],(e=t.createElement(n)).async=!0,e.src="https://static.ads-twitter.com/uwt.js",(t=t.getElementsByTagName(n)[0]).parentNode.insertBefore(e,t)),twq("init","o92un"),twq("track","PageView")),this}createGPT(){if(this.dfxGdprChecker.checkLevel(1)&&this.allowedTrackingsConfig[TRACKINGS.GPT]&&this.gptState===STATES.OFF){this.gptState=STATES.LOADING;const scriptOnload=()=>{this.gptState=STATES.READY};var gads,useSSL,googletag=window.googletag||{cmd:[]};(gads=document.createElement("script")).async=!0,gads.type="text/javascript",useSSL="https:"===document.location.protocol,gads.src=(useSSL?"https:":"http:")+"//www.googletagservices.com/tag/js/gpt.js",gads.onload=scriptOnload,(useSSL=document.getElementsByTagName("script")[0]).parentNode.insertBefore(gads,useSSL),window.googletag=window.googletag||googletag}return this}trackGTMpageLoadEvent(){return this.dfxGdprChecker.checkLevel(1)&&(window.dataLayer=window.dataLayer||[],window.dataLayer.push({event:"turboPageView",virtualUrl:window.location.pathname})),this}createBaiduTracking(){var s,hm,curProtocol;return this.dfxGdprChecker.checkLevel(2)&&this.allowedTrackingsConfig[TRACKINGS.BAIDU]&&this.baiduState!==STATES.READY&&((hm=document.createElement("script")).src="https://hm.baidu.com/hm.js?961aa7f85d30d676f24a6f928c035b90",(s=document.getElementsByTagName("script")[0]).parentNode.insertBefore(hm,s),hm=document.createElement("script"),curProtocol=window.location.protocol.split(":")[0],hm.src="https"===curProtocol?"https://zz.bdstatic.com/linksubmit/push.js":"http://push.zhanzhang.baidu.com/push.js",(curProtocol=document.getElementsByTagName("script")[0]).parentNode.insertBefore(hm,curProtocol),this.baiduState=STATES.READY),this}addGptAssetClasses(assetClasses){if(Array.isArray(assetClasses))return assetClasses.forEach(assetClass=>this.gptAssetClasses.add(assetClass)),this;throw new TypeError("Param assetClasses must be an Array")}addGptInstrumentPairs(pairs){if(Array.isArray(pairs))return pairs.forEach(assetClass=>this.gptInstrumentPairs.add(assetClass)),this;throw new TypeError("Param pairs must be an Array")}addGptCategories(category="",subCategory=""){this.gptCategories={category:category,subCategory:subCategory}}getGptAssetClasses(){return this.gptAssetClasses}getGptInstrumentPairs(){return this.gptInstrumentPairs}getGptCategory(){return this.gptCategories.category}getGptSubCategory(){return this.gptCategories.subCategory}createTaboolaPixel(){if(this.dfxGdprChecker.checkLevel(3)&&this.allowedTrackingsConfig[TRACKINGS.TABOOLA_PIXEL]&&this.taboolaState===STATES.OFF){this.taboolaState=STATES.LOADING;const scriptOnload=()=>{this.taboolaState=STATES.READY};var t,f,x;window._tfa=window._tfa||[],window._tfa.push({notify:"event",name:"page_view",id:this.taboolaPixelId}),this.tfa=window._tfa,t=document.createElement("script"),f=document.getElementsByTagName("script")[0],x="tb_tfa_script",document.getElementById(x)||(t.async=1,t.src="https://cdn.taboola.com/libtrc/unip/1350268/tfa.js",t.id=x,t.onload=scriptOnload,f.parentNode.insertBefore(t,f))}return this}taboolaPixelTrack(eventName){return this.dfxGdprChecker.checkLevel(3)&&this.allowedTrackingsConfig[TRACKINGS.TABOOLA_PIXEL]&&(this.pixelState===STATES.OFF&&this.createTaboolaPixel(),this.tfa.push({notify:"event",name:eventName,id:this.taboolaPixelId})),this}}class DfxConfig{constructor(config){this.config=config}get(key){return this.config.get(key)}set(key,value){this.config.has(key)||this.config.set(key,value)}}var __defProp$2=Object.defineProperty,__getOwnPropDesc$2=Object.getOwnPropertyDescriptor;class DfxConfigFactory{static create(){var mergedConfig=Object.assign({},window.DFX_CONFIG,window.DFX_ENDPOINTS),mergedConfig=new Map(Object.entries(mergedConfig));return new DfxConfig(mergedConfig)}}((decorators,target,key,kind)=>{for(var decorator,result=1{for(var decorator,result=1{var fulfilled=value=>{try{step(generator.next(value))}catch(e){reject(e)}},rejected=value=>{try{step(generator.throw(value))}catch(e){reject(e)}},step=x=>x.done?resolve(x.value):Promise.resolve(x.value).then(fulfilled,rejected);step((generator=generator.apply(__this,__arguments)).next())});var __this,__arguments,generator}}var prototype=Object.defineProperty,__getOwnPropDesc=Object.getOwnPropertyDescriptor;class DfxFontsFactory{static create(){return new DfxFonts(document)}}for(var decorator,decorators=[createSingleton()],target=DfxFontsFactory,key="create",kind=1,result=1{return __this=window,__arguments=null,generator=function*(){try{var noscript=document.querySelector("noscript.jsdfx-script");if(noscript){const imports=yield window.System.import(noscript.getAttribute("data-src"));Object.keys(imports).forEach(key=>{window[key]=imports[key]}),window.runStacked()}}catch(error){console.error(error)}},new Promise((resolve,reject)=>{var fulfilled=value=>{try{step(generator.next(value))}catch(e){reject(e)}},rejected=value=>{try{step(generator.throw(value))}catch(e){reject(e)}},step=x=>x.done?resolve(x.value):Promise.resolve(x.value).then(fulfilled,rejected);step((generator=generator.apply(__this,__arguments)).next())});var __this,__arguments,generator};document.addEventListener("turbo:load",()=>loadScripts()),window.turbo=Turbo,start(),DfxGeoLocationFactory.create().init(),exports.DfxGdprChecker=__getOwnPropDesc,exports.DfxGdprCheckerFactory=DfxGdprCheckerFactory,exports.DfxGeoLocationFactory=DfxGeoLocationFactory,exports.DfxThirdPartyManagerFactory=DfxThirdPartyManagerFactory,Object.defineProperty(exports,"__esModule",{value:!0})}(this.window=this.window||{});


Source link