[ad_1]
US Dollar (DXY) Price and Chart Analysis
US Inflation is expected to nudge lower in November.
The US dollar is stuck in a short-term range and waiting for a driver.
Recommended by Nick Cawley
Trading Forex News: The Strategy
The latest US inflation report (November) will be released today at 13:30 GMT. The annual core inflation rate is seen dropping to 6.1% from 6.3% in October, while the headline rate is seen easing to 7.3% from 7.7% in the previous month. Any easing of US price pressures will be welcomed by the Federal Reserve which announces its latest monetary policy decision on Wednesday at 19:00 GMT. Markets are currently pricing in a 50 basis point rate hike tomorrow.
One report that was released yesterday, The New York Fed Survey of Consumer Expectations, showed median one-year interest rate expectations falling sharply from 5.9% to 5.2%, while three- and five-year expectations slipped 0.1% lower to 3% and 2.3% respectively. A read across to today's CPI report may see the rate of inflation slowing by more than currently expected.
New York Fed Survey of Consumer Expectations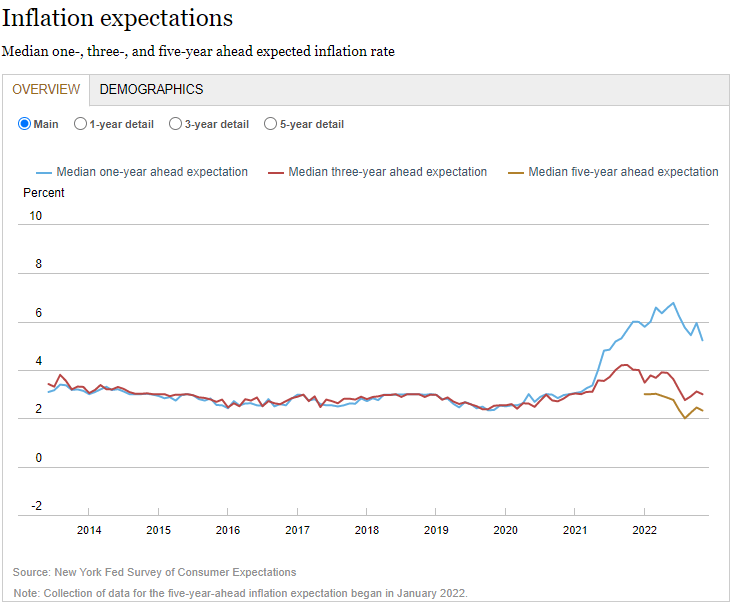 For all market-moving data releases and economic events see the real-time DailyFX Calendar.
Recommended by Nick Cawley
Building Confidence in Trading
Short-dated US Treasury yields are also biding their time with the two-year UST currently trading at 4.38%, the neckline level of the recent head and shoulders pattern. If the two-year breaks below the 4.26% to 4.18% area, then 4.08% to 4.00% becomes the next landing zone.
The Head and Shoulders Pattern: A Trader's Guide
US 2-Year Treasury Yield Daily Chart – December 13, 2022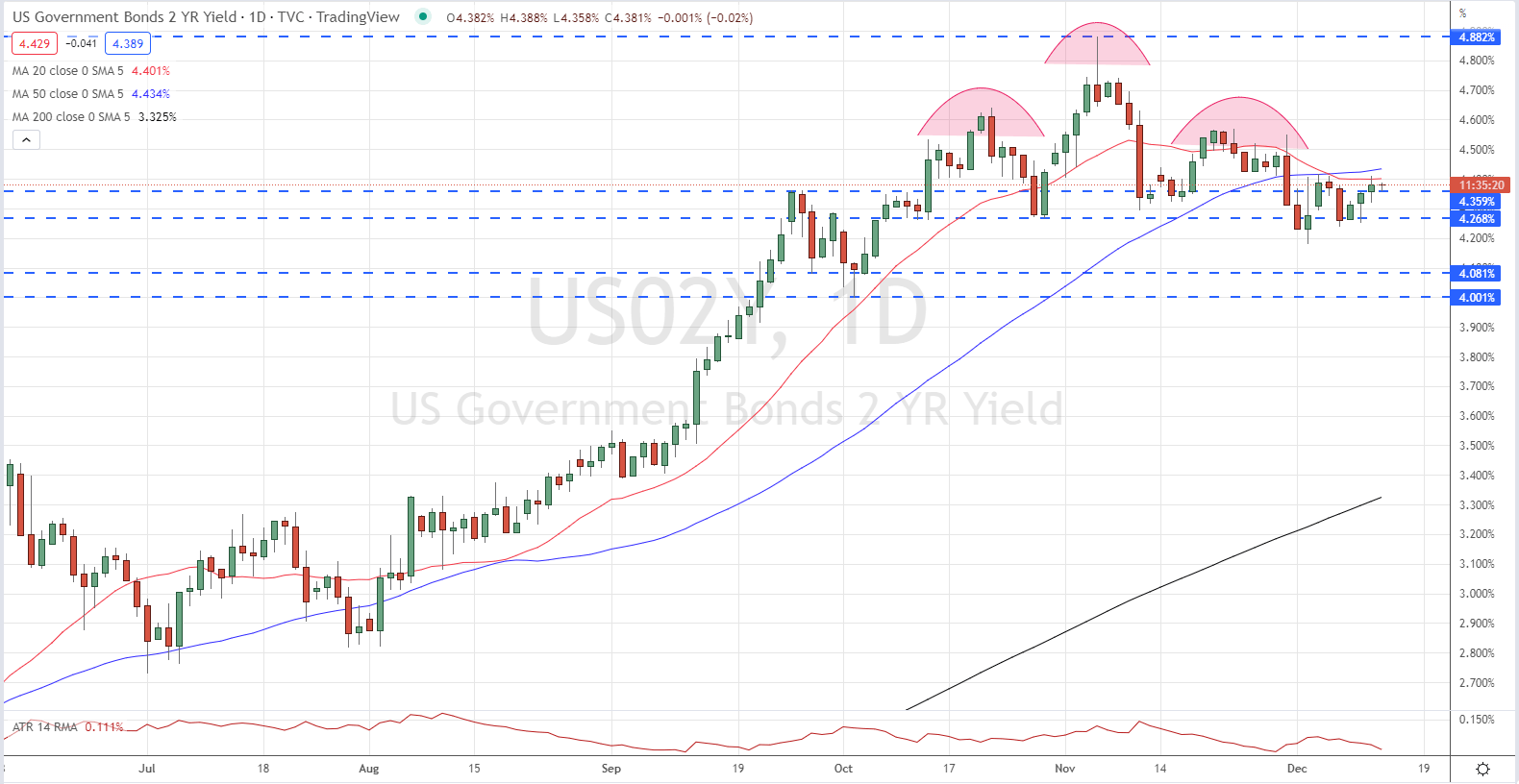 The US dollar has barely moved this week and sits in the middle of a medium-term support zone. The greenback continues to trade below all three moving averages – a bearish outlook – while the 14-day Average True Range (ATR) – a measure of volatility – is currently resting at a multi-week low. If today's CPI print deviates from expectations, or if chair Powell gives a clear hint on future US monetary policy at tomorrow's FOMC press conference, then expect the US dollar to break out of its recent torpor, and quickly.
US Dollar (DXY) Daily Chart – December 13, 2022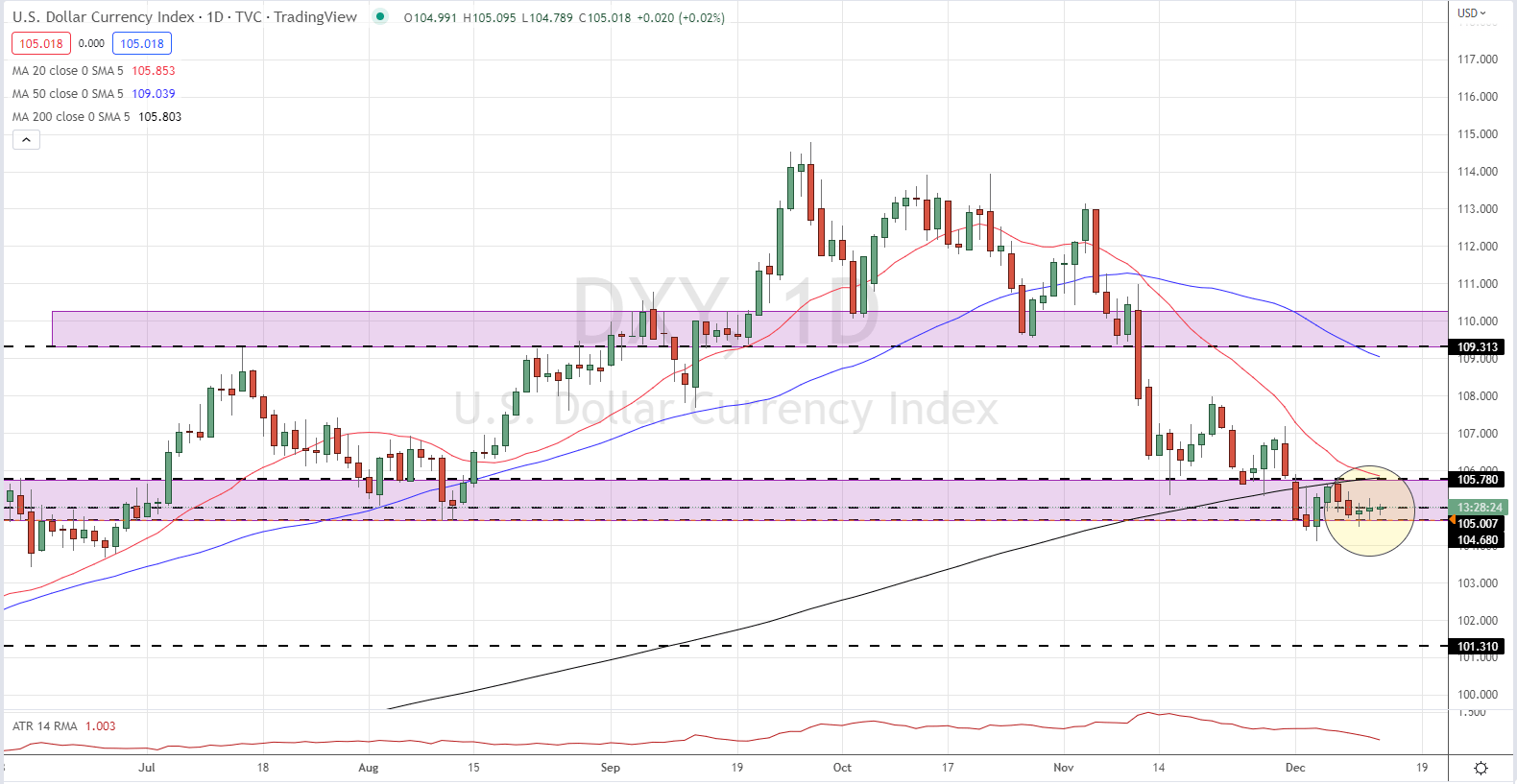 Charts via TradingView
What is your view on the US Dollar – bullish or bearish?? You can let us know via the form at the end of this piece or you can contact the author via Twitter @nickcawley1.
element. This is probably not what you meant to do! Load your application's JavaScript bundle inside the
element instead. are evaluated with each page change. For more information, see: https://turbo.hotwired.dev/handbook/building#working-with-script-elements —— Suppress this warning by adding a "data-turbo-suppress-warning" attribute to: %s `,element.outerHTML)})(),window.Turbo=Turbo,start();Turbo=Object.freeze({__proto__:null,PageRenderer:PageRenderer,PageSnapshot:PageSnapshot,clearCache:clearCache,connectStreamSource:connectStreamSource,disconnectStreamSource:disconnectStreamSource,navigator:prototype,registerAdapter:registerAdapter,renderStreamMessage:renderStreamMessage,session:session,setConfirmMethod:setConfirmMethod,setProgressBarDelay:setProgressBarDelay,start:start,visit:visit});function createSingleton(removeOnTurboVisit=!1){return function(target,name,descriptor){const original=descriptor.value;return descriptor.value=(...args)=>{var _a;window.DFX_SINGLETONS=null!=(_a=window.DFX_SINGLETONS)?_a:{};const instanceId=target.prototype.constructor.name+":"+name;if(removeOnTurboVisit){const turboCallback=()=>{window.DFX_SINGLETONS[instanceId]&&(window.DFX_SINGLETONS[instanceId]=null),document.removeEventListener("turbo:visit",turboCallback)};document.addEventListener("turbo:visit",turboCallback)}return window.DFX_SINGLETONS[instanceId]||(_a=original.apply(this,args),Object.defineProperty(window.DFX_SINGLETONS,instanceId,{value:_a,writable:!0}),_a)},descriptor}}class DfxLocalStorageCookieManager{constructor(localStorage){this.localStorage=localStorage,this.localStorage=localStorage;try{this.localStorage.setItem("test","test"),this.localStorage.removeItem("test"),this.isLocalStorageAvailable=!0}catch(e){this.isLocalStorageAvailable=!1}}getCookie(name){return(name=name&&document.cookie.match(new RegExp(`(?:^|; )${name.replace(/([.$?*|{}()\[\]\\\/+^])/g,"\\$1")}=([^;]*)`)))?decodeURIComponent(name[1]):void 0}setCookie(name,value,expires,domain,secure=!0){let cookieString=name+"="+value;"string"==typeof expires&&(cookieString+=";expires="+expires),"string"==typeof domain&&(cookieString+=";domain="+domain),cookieString+="; path=/",secure&&"https:"===location.protocol&&(cookieString+="; secure"),document.cookie=cookieString}deleteCookie(name){this.setCookie(name,"","Thu, 01 Jan 1970 00:00:00 UTC")}getLocalStorageOrCookie(name){var _a;return this.isLocalStorageAvailable&&null!=(_a=this.localStorage.getItem(name))?_a:this.getCookie(name)}setLocalStorageOrCookie(name,value,expires,domain){this.isLocalStorageAvailable?this.localStorage.setItem(name,value):this.setCookie(name,value,expires,domain)}deleteLocalStorageOrCookie(name){this.isLocalStorageAvailable?this.localStorage.removeItem(name):this.deleteCookie(name)}}var __defProp$5=Object.defineProperty,__getOwnPropDesc$5=Object.getOwnPropertyDescriptor;class DfxLocalStorageCookieManagerFactory{static create(){return new DfxLocalStorageCookieManager(window.localStorage)}}((decorators,target,key,kind)=>{for(var decorator,result=1
=level}normalizeValue(value){let intValue=parseInt(value);return intValue=isNaN(intValue)?3:intValue}}var __defProp$4=Object.defineProperty,__getOwnPropDesc$4=Object.getOwnPropertyDescriptor;class DfxGdprCheckerFactory{static create(){return new DfxGdprChecker(DfxLocalStorageCookieManagerFactory.create())}}((decorators,target,key,kind)=>{for(var decorator,result=1new Promise((resolve,reject)=>{var fulfilled=value=>{try{step(generator.next(value))}catch(e){reject(e)}},rejected=value=>{try{step(generator.throw(value))}catch(e){reject(e)}},step=x=>x.done?resolve(x.value):Promise.resolve(x.value).then(fulfilled,rejected);step((generator=generator.apply(__this,__arguments)).next())});const COUNTRIES_TO_REPLACE_MAP=new Map([["GB","UK"]]);class DfxGeoLocation{constructor(geoJsUrl,dfxLocalStorageCookieManager){this.geoJsUrl=geoJsUrl,this.dfxLocalStorageCookieManager=dfxLocalStorageCookieManager}init(){return __async$2(this,null,function*(){var redirectData=yield this.getRedirectData();COUNTRIES_TO_REPLACE_MAP.has(redirectData.country)&&(redirectData.country=COUNTRIES_TO_REPLACE_MAP.get(redirectData.country)),this.redirectData=redirectData,this.setBodyClasses().setLocationToStorage()})}getRedirectData(){return __async$2(this,null,function*(){var redirectData;return this.redirectData||((redirectData=this.getLocationFromStorage())?(this.redirectData=redirectData,this.redirectData):this.loadRedirectData())})}loadRedirectData(){return new Promise(resolve=>{var script=document.createElement("script");script.onload=()=>{this.redirectData=window.redirectData,resolve(this.redirectData)},script.setAttribute("src",this.geoJsUrl),document.head.appendChild(script)})}setBodyClasses(){const countryCode=this.redirectData.country.toLowerCase();return document.body?(document.body.classList.remove("dfx-country-pending"),document.body.classList.add("dfx-country-"+countryCode)):document.addEventListener("DOMContentLoaded",()=>{document.body.classList.remove("dfx-country-pending"),document.body.classList.add("dfx-country-"+countryCode)},!1),this}getLocationFromStorage(){var expiresIn=this.dfxLocalStorageCookieManager.getLocalStorageOrCookie("dfx-redirectData_expiresIn");return!!(expiresIn&&parseInt(expiresIn)>Date.now())&&JSON.parse(null!=(expiresIn=this.dfxLocalStorageCookieManager.getLocalStorageOrCookie("dfx-redirectData"))?expiresIn:"false")}setLocationToStorage(){var date=new Date;return date.setTime(date.getTime()+6048e5),this.dfxLocalStorageCookieManager.setLocalStorageOrCookie("dfx-redirectData",JSON.stringify(this.redirectData),date.toUTCString()),this.dfxLocalStorageCookieManager.setLocalStorageOrCookie("dfx-redirectData_expiresIn",""+date.getTime(),date.toUTCString()),this}}var __defProp$3=Object.defineProperty,__getOwnPropDesc$3=Object.getOwnPropertyDescriptor;class DfxGeoLocationFactory{static create(){return new DfxGeoLocation(window.DFX_ENDPOINTS.geoJs,DfxLocalStorageCookieManagerFactory.create())}}((decorators,target,key,kind)=>{for(var decorator,result=1{this._resetAssetClasses()._resetInstruments()._resetCategories()})}_setDefaultStates(){return this.baiduState=STATES.OFF,this.pixelState=STATES.OFF,this.gptState=STATES.OFF,this.gtmState=STATES.OFF,this.taboolaState=STATES.OFF,this}_resetInstruments(){return this.gptInstrumentPairs=new Set,this}_resetCategories(){return this.gptCategories={category:"",subCategory:""},this}_resetAssetClasses(){return this.gptAssetClasses=new Set,this}createFacebookPixel(){var loadCallback,b,e,n,f;return this.dfxGdprChecker.checkLevel(3)&&this.allowedTrackingsConfig[TRACKINGS.FACEBOOK_PIXEL]&&this.pixelState===STATES.OFF&&(this.pixelState=STATES.LOADING,loadCallback=()=>{this.pixelState=STATES.READY},f=window,b=document,e="script",f.fbq||(n=f.fbq=function(){n.callMethod?n.callMethod.apply(n,arguments):n.queue.push(arguments)},f._fbq||(f._fbq=n),(n.push=n).loaded=!0,n.version="2.0",n.queue=[],(f=b.createElement(e)).async=!0,f.onload=loadCallback,f.src="https://connect.facebook.net/en_US/fbevents.js",(loadCallback=b.getElementsByTagName(e)[0]).parentNode.insertBefore(f,loadCallback)),this.fbq=window.fbq,this.fbq("init",this.facebookPixelId)),this}facebookPixelTrack(type){return this.dfxGdprChecker.checkLevel(3)&&this.allowedTrackingsConfig[TRACKINGS.FACEBOOK_PIXEL]&&(this.pixelState===STATES.OFF&&this.createFacebookPixel(),this.fbq("track",type)),this}facebookPixelTrackPageView(){return this.dfxGdprChecker.checkLevel(3)&&this.facebookPixelTrack("PageView"),this}facebookPixelTrackLead(){return this.dfxGdprChecker.checkLevel(3)&&this.facebookPixelTrack("Lead"),this}createGTM(){if(this.dfxGdprChecker.checkLevel(1)&&this.allowedTrackingsConfig[TRACKINGS.GTM]&&this.gtmState===STATES.OFF){this.gtmState=STATES.LOADING;const scriptOnload=()=>{this.gtmState=STATES.READY};var w=window,d=document,s="script",l="dataLayer",i=this.tagManagerId,p=this.tagManagerParams;w[l]=w[l]||[],w[l].push({"gtm.start":(new Date).getTime(),event:"gtm.js"}),w=d.getElementsByTagName(s)[0],(l=d.createElement(s)).async=!0,l.src="https://www.googletagmanager.com/gtm.js?id="+i+p,l.onload=scriptOnload,w.parentNode.insertBefore(l,w)}return this}createTwitterPixel(){var n,s,e,t;return this.dfxGdprChecker.checkLevel(3)&&this.allowedTrackingsConfig[TRACKINGS.TWITTER_PIXEL]&&(e=window,t=document,n="script",e.twq||((s=e.twq=function(){s.exe?s.exe.apply(s,arguments):s.queue.push(arguments)}).version="1.1",s.queue=[],(e=t.createElement(n)).async=!0,e.src="https://static.ads-twitter.com/uwt.js",(t=t.getElementsByTagName(n)[0]).parentNode.insertBefore(e,t)),twq("init","o92un"),twq("track","PageView")),this}createGPT(){if(this.dfxGdprChecker.checkLevel(1)&&this.allowedTrackingsConfig[TRACKINGS.GPT]&&this.gptState===STATES.OFF){this.gptState=STATES.LOADING;const scriptOnload=()=>{this.gptState=STATES.READY};var gads,useSSL,googletag=window.googletag||{cmd:[]};(gads=document.createElement("script")).async=!0,gads.type="text/javascript",useSSL="https:"===document.location.protocol,gads.src=(useSSL?"https:":"http:")+"//www.googletagservices.com/tag/js/gpt.js",gads.onload=scriptOnload,(useSSL=document.getElementsByTagName("script")[0]).parentNode.insertBefore(gads,useSSL),window.googletag=window.googletag||googletag}return this}trackGTMpageLoadEvent(){return this.dfxGdprChecker.checkLevel(1)&&(window.dataLayer=window.dataLayer||[],window.dataLayer.push({event:"turboPageView",virtualUrl:window.location.pathname})),this}createBaiduTracking(){var s,hm,curProtocol;return this.dfxGdprChecker.checkLevel(2)&&this.allowedTrackingsConfig[TRACKINGS.BAIDU]&&this.baiduState!==STATES.READY&&((hm=document.createElement("script")).src="https://hm.baidu.com/hm.js?961aa7f85d30d676f24a6f928c035b90",(s=document.getElementsByTagName("script")[0]).parentNode.insertBefore(hm,s),hm=document.createElement("script"),curProtocol=window.location.protocol.split(":")[0],hm.src="https"===curProtocol?"https://zz.bdstatic.com/linksubmit/push.js":"http://push.zhanzhang.baidu.com/push.js",(curProtocol=document.getElementsByTagName("script")[0]).parentNode.insertBefore(hm,curProtocol),this.baiduState=STATES.READY),this}addGptAssetClasses(assetClasses){if(Array.isArray(assetClasses))return assetClasses.forEach(assetClass=>this.gptAssetClasses.add(assetClass)),this;throw new TypeError("Param assetClasses must be an Array")}addGptInstrumentPairs(pairs){if(Array.isArray(pairs))return pairs.forEach(assetClass=>this.gptInstrumentPairs.add(assetClass)),this;throw new TypeError("Param pairs must be an Array")}addGptCategories(category="",subCategory=""){this.gptCategories={category:category,subCategory:subCategory}}getGptAssetClasses(){return this.gptAssetClasses}getGptInstrumentPairs(){return this.gptInstrumentPairs}getGptCategory(){return this.gptCategories.category}getGptSubCategory(){return this.gptCategories.subCategory}createTaboolaPixel(){if(this.dfxGdprChecker.checkLevel(3)&&this.allowedTrackingsConfig[TRACKINGS.TABOOLA_PIXEL]&&this.taboolaState===STATES.OFF){this.taboolaState=STATES.LOADING;const scriptOnload=()=>{this.taboolaState=STATES.READY};var t,f,x;window._tfa=window._tfa||[],window._tfa.push({notify:"event",name:"page_view",id:this.taboolaPixelId}),this.tfa=window._tfa,t=document.createElement("script"),f=document.getElementsByTagName("script")[0],x="tb_tfa_script",document.getElementById(x)||(t.async=1,t.src="https://cdn.taboola.com/libtrc/unip/1350268/tfa.js",t.id=x,t.onload=scriptOnload,f.parentNode.insertBefore(t,f))}return this}taboolaPixelTrack(eventName){return this.dfxGdprChecker.checkLevel(3)&&this.allowedTrackingsConfig[TRACKINGS.TABOOLA_PIXEL]&&(this.pixelState===STATES.OFF&&this.createTaboolaPixel(),this.tfa.push({notify:"event",name:eventName,id:this.taboolaPixelId})),this}}class DfxConfig{constructor(config){this.config=config}get(key){return this.config.get(key)}set(key,value){this.config.has(key)||this.config.set(key,value)}}var __defProp$2=Object.defineProperty,__getOwnPropDesc$2=Object.getOwnPropertyDescriptor;class DfxConfigFactory{static create(){var mergedConfig=Object.assign({},window.DFX_CONFIG,window.DFX_ENDPOINTS),mergedConfig=new Map(Object.entries(mergedConfig));return new DfxConfig(mergedConfig)}}((decorators,target,key,kind)=>{for(var decorator,result=1{for(var decorator,result=1{var fulfilled=value=>{try{step(generator.next(value))}catch(e){reject(e)}},rejected=value=>{try{step(generator.throw(value))}catch(e){reject(e)}},step=x=>x.done?resolve(x.value):Promise.resolve(x.value).then(fulfilled,rejected);step((generator=generator.apply(__this,__arguments)).next())});var __this,__arguments,generator}}var prototype=Object.defineProperty,__getOwnPropDesc=Object.getOwnPropertyDescriptor;class DfxFontsFactory{static create(){return new DfxFonts(document)}}for(var decorator,decorators=[createSingleton()],target=DfxFontsFactory,key="create",kind=1,result=1{return __this=window,__arguments=null,generator=function*(){try{var noscript=document.querySelector("noscript.jsdfx-script");if(noscript){const imports=yield window.System.import(noscript.getAttribute("data-src"));Object.keys(imports).forEach(key=>{window[key]=imports[key]}),window.runStacked()}}catch(error){console.error(error)}},new Promise((resolve,reject)=>{var fulfilled=value=>{try{step(generator.next(value))}catch(e){reject(e)}},rejected=value=>{try{step(generator.throw(value))}catch(e){reject(e)}},step=x=>x.done?resolve(x.value):Promise.resolve(x.value).then(fulfilled,rejected);step((generator=generator.apply(__this,__arguments)).next())});var __this,__arguments,generator};document.addEventListener("turbo:load",()=>loadScripts()),window.turbo=Turbo,start(),DfxGeoLocationFactory.create().init(),exports.DfxGdprChecker=__getOwnPropDesc,exports.DfxGdprCheckerFactory=DfxGdprCheckerFactory,exports.DfxGeoLocationFactory=DfxGeoLocationFactory,exports.DfxThirdPartyManagerFactory=DfxThirdPartyManagerFactory,Object.defineProperty(exports,"__esModule",{value:!0})}(this.window=this.window||{});

[ad_2]
Source link