[ad_1]
Do you know that you can sell your extra internet bandwidth to earn passive income? Think about how many hours your internet sits unused while you're at work, asleep, or out running errands. Instead of letting all that bandwidth you're paying for go to waste, you can sell it to companies for cryptocurrency, cash, or gift cards. If you don't mind sharing your internet when you're not using it to earn a couple of extra bucks a month, here are some apps you can use to sell your bandwidth.
Why Do Companies Buy Bandwidth?
Before you try out this side hustle, you may be wondering why companies buy bandwidth and what they use it for. Usually, companies that purchase bandwidth from consumers act as middlemen. They pay you for your bandwidth and then rent out your internet connection to businesses and individuals around the world who need it.
Businesses that rent residential internet connections typically use them for tasks like app and ad testing. Your internet may also be used by VPN subscribers who want to protect their privacy online or stream content that's unavailable in their country.
Are Bandwidth Selling Apps Safe?
Like anything you do online, renting your bandwidth comes with some risks. Since you're giving people you've never met access to your internet, there's a chance your network could be used for questionable activities like creating fake product reviews or clicking ads to generate revenue. A Reddit user who sells their bandwidth also claimed that a hacker utilized their internet connection to attack Sony's Playstation servers.
However, working with reputable bandwidth-selling companies can greatly reduce the risk that your internet connection will be abused because they thoroughly vet their clients. For example, IP Royal requires customers to verify their identity by providing a valid ID and other photographic proof.
The company also has several layers of security in place to ensure your internet won't be misused to view illicit content or carry out cyber attacks. For instance, as soon as IP Royal learned that Playstation's servers may be a target for hackers, the company banned its customers from accessing Sony's domains.
Take Steps To Protect Yourself
In addition to working with reputable bandwidth-selling companies, there are other steps you can take to protect yourself so you can safely earn money from your unused internet. There are tools that can help you monitor your network's activity and see what people are doing on your WiFi. If you notice anything suspicious going on, you can report it to the bandwidth company.
Before you sell your bandwidth, you should also ensure that your internet service provider allows customers to rent out their internet connection. Several major ISPs including Sonic Internet and Comcast prohibit the use of bandwidth-selling apps, so check your contract and review the terms of service carefully.
Another thing to be aware of is that your internet speed might slow down when you share your network. However, some people don't notice a difference—it all depends on what kind of internet plan you have and what you usually do online. Luckily you'll be able to control when you sell your bandwidth, so you can disable network sharing during the day if you're doing work that requires top internet speeds.
The Best Apps to Sell Your Bandwidth
As long as you sell your bandwidth through reputable companies like the ones below, earning passive income from your internet is a great side hustle. To be clear, you won't get rich from sharing your internet—but these apps can help you make some extra spending money without putting in any effort.
Earn App
First on our list of the best bandwidth-selling apps is Earn App. It works on Windows, Android, Linux, and Roku devices and is currently being beta tested on Macs. There's also an IOS app in development that should be available in the app store by November 2022.
According to Earn App, you can make $0.45 per gigabyte of data you share if you live in the United States, and $0.30 per gigabyte if you reside in any other country worldwide. Your total monthly earnings will depend on factors like how many devices you connect and how much traffic is routed through them every day. Keep in mind that you may not make money the whole time Earn App (or any other bandwidth app) is running on your devices because demand for internet usually fluctuates throughout the day.
With that being said, you can expect to earn around $45 per month if you live in the US and share 2.5GB of data with customers on a daily basis, subject to demand. You can also earn extra cash through Earn App's affiliate program. When you refer a friend, you'll collect a portion of their daily earnings, although Earn App doesn't specify how much.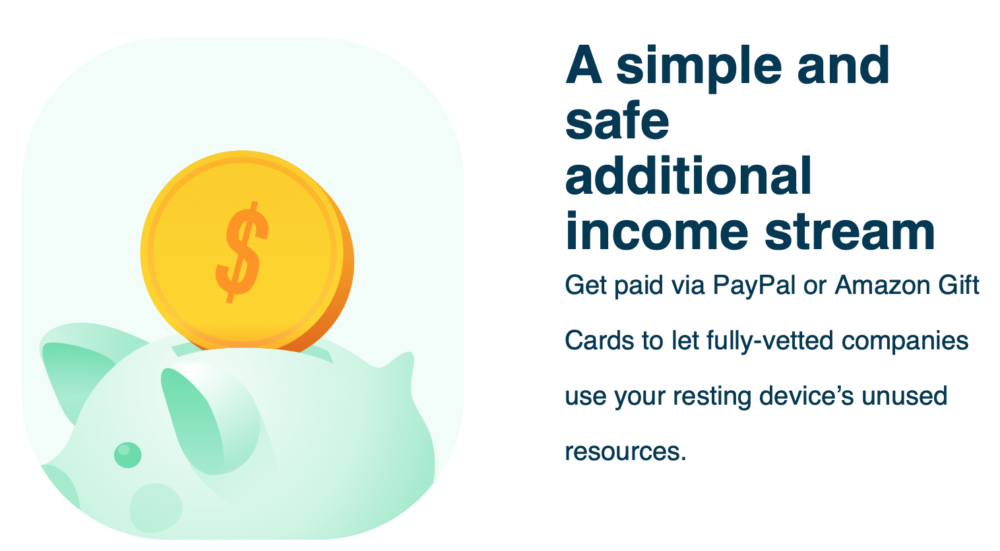 Earn App allows you to redeem your earnings via PayPal once you've racked up a minimum of $2.50. But if you want an Amazon gift card, you'll need to make at least $50 before you can cash out. Earn App also plans to allow sellers to donate their earnings to charities soon.
To make its software more secure, Earn App tests the code on several antivirus platforms every day. The code also gets externally audited every three months. Earn App even complies with the requirements of multiple security companies, including the Clean Software Alliance and AppEsteem.
Earn App has an "average" rating of 3.5 stars on Trustpilot. However, the company has responded to 97% of the negative reviews, which shows a willingness to accept feedback. Plus, many of the complaints are related to earnings. When you sell your bandwidth, you have to keep in mind that you're not going to get rich from it, or even make enough to cover your whole WiFi bill.
IP Royal
IP Royal is one of the most popular apps for selling bandwidth. Getting started is easy —all you have to do is create an account and download the Pawns.app program, which can be run on Windows, Mac, and Android devices.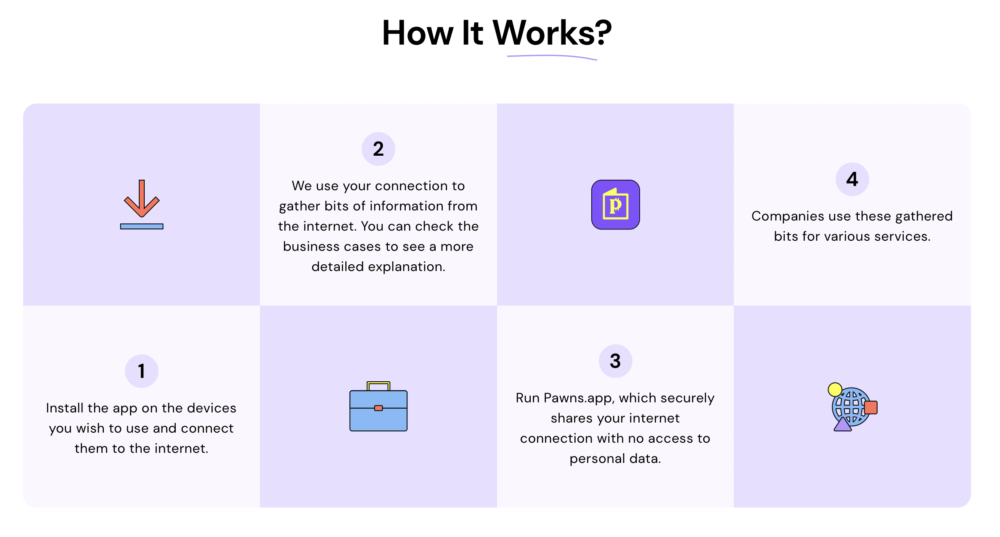 From there, simply let the program run in the background while you go about your day to start racking up cash. Right now you can earn $0.20 per gigabyte of data sold. There's a calculator on the Pawns website that allows you to estimate how much you might earn based on how many hours per day you plan to run the app. On average, sellers can make between $5 and $30 per month depending on demand—not bad considering it's completely passive income!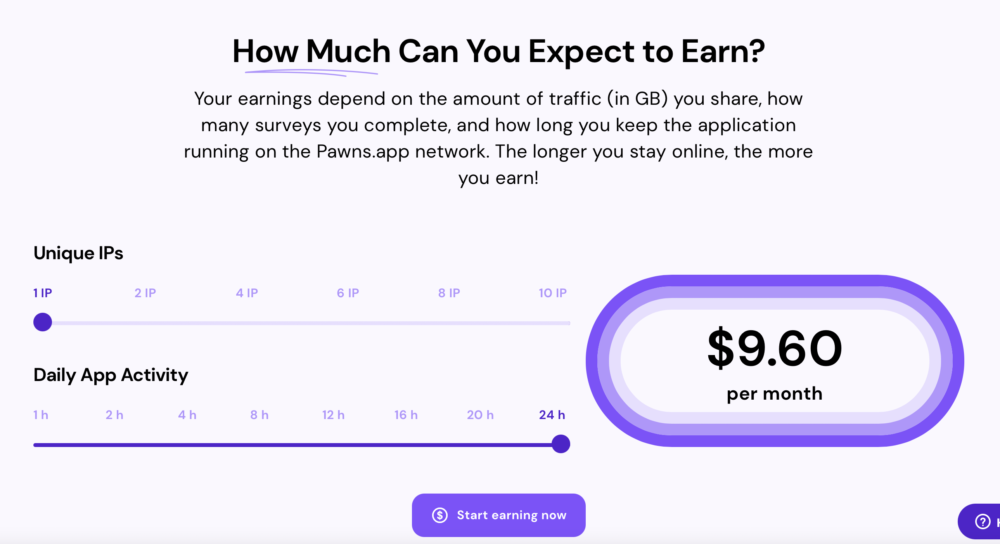 Pawns.app also has surveys you can take to earn extra money and hit the $5 payout threshold faster. You can redeem your earnings via PayPal, cash them out for bitcoin, or choose from a variety of gift cards. There's even an affiliate program that allows you to refer friends to Pawn and collect 10% of their lifetime earnings.
IP Royal earned an excellent rating of 4.4 stars on Trustpilot and has strict security measures in place to protect sellers, so you can feel confident about using the app.
Honeygain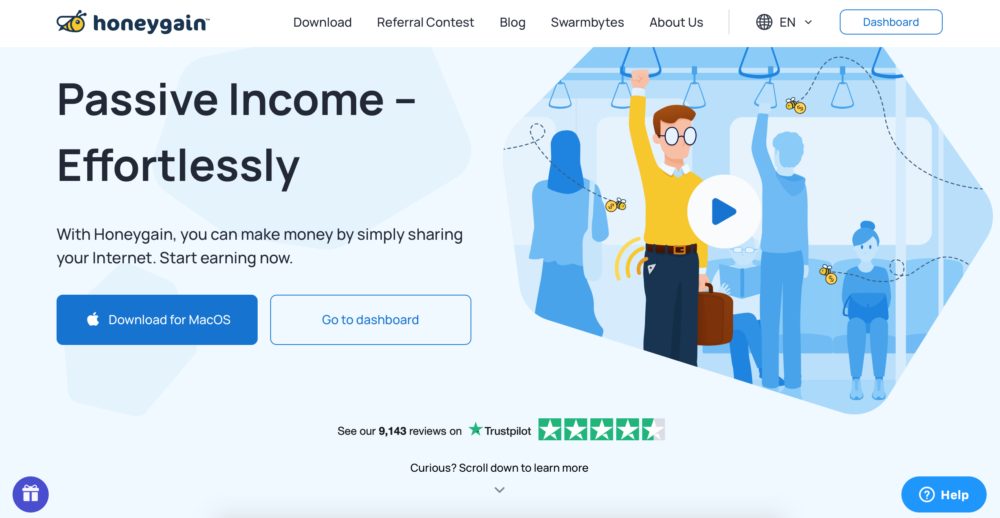 Honeygain is another app you can use to sell your bandwidth. Right now you can earn a $5 bonus just for signing up, which is a big plus. Honeygain is compatible with Windows, macOS, Linux, iOS, and Android, so you'll be able to run it on almost any device.
Honeygain pays users in "credits" that can be redeemed for bitcoin or cash via PayPal. According to the company's blog, you'll earn about 300 credits per gigabyte of data you share, which equals roughly $0.30.
Users who enable the content delivery feature can earn even more because it requires extra bandwidth. Your network will be used to deliver images, video, and audio, so you might notice a slight dip in your internet speed.
To compensate you for the heavier bandwidth use, Honeygain will give you 6 credits for every hour your device is connected to the content delivery servers, which is double the usual pay rate. If you regularly take advantage of this feature, you can make up to $67 per month depending on demand for devices in your location. Not too shabby!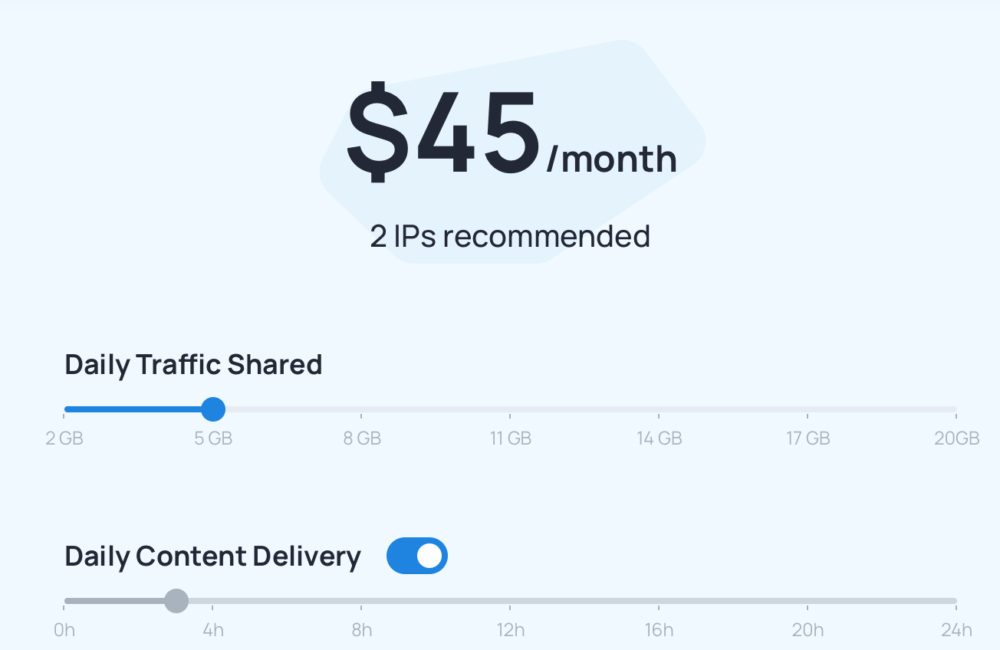 In order to cash out your earnings, you'll have to save 20,000 credits, which may take you a while if you only use the app occasionally. Once you reach the threshold, your payment will be processed via PayPal. If you want to rack up extra cash to get your payout faster, Honeygain has an affiliate program you can enroll in. You'll get 500 credits for each friend you refer and collect a daily bonus equivalent to 10% of what they earned the previous day.
You'll also be glad to know that Honeygain earned 4.5 stars on Trustpilot and receives positive reviews overall, so there's no reason not to try it out!
Peer2Profit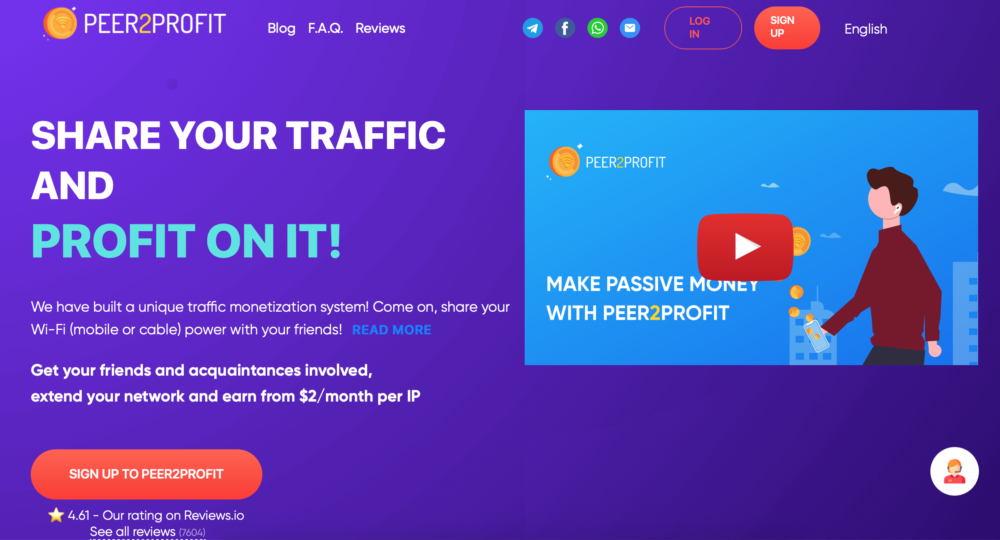 If your main focus is sharing mobile data, Peer2Profit is a great option. Peer2Profit fully supports Windows, Linux, Android, Mac OS, Raspberry Pi, and Huawei modems. The company says sellers earn a monthly average of $8.33 per IP address across all regions and network types. However, if you live in a country with higher demand for bandwidth like the US, you may earn more. Americans make an average of $12.87 per device.
Peer2Profit even offers an affiliate program to help increase your earnings. When your friend signs up using your referral link, you'll make an additional $2 per month for every IP address that person connects. Depending on which withdrawal method you use, you'll need between $2 and $14 in order to cash out. You can transfer your earnings to various cryptocurrency wallets or Payeer.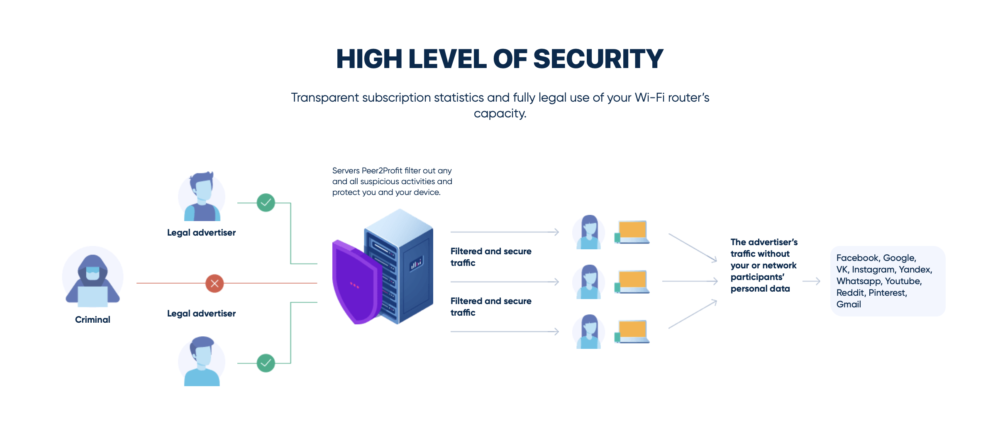 To help keep sellers safe, Peer2Profit only works with vetted advertising corporations. The company monitors all traffic to ensure the terms of service are being met and no laws are being broken, giving you peace of mind that your IP address is safe.
Peer2Profit has an "average" Trustpilot rating of 3.2 stars. However, many of the negative reviews are from sellers who didn't earn as much as they hoped, so keep that in mind.
PacketStream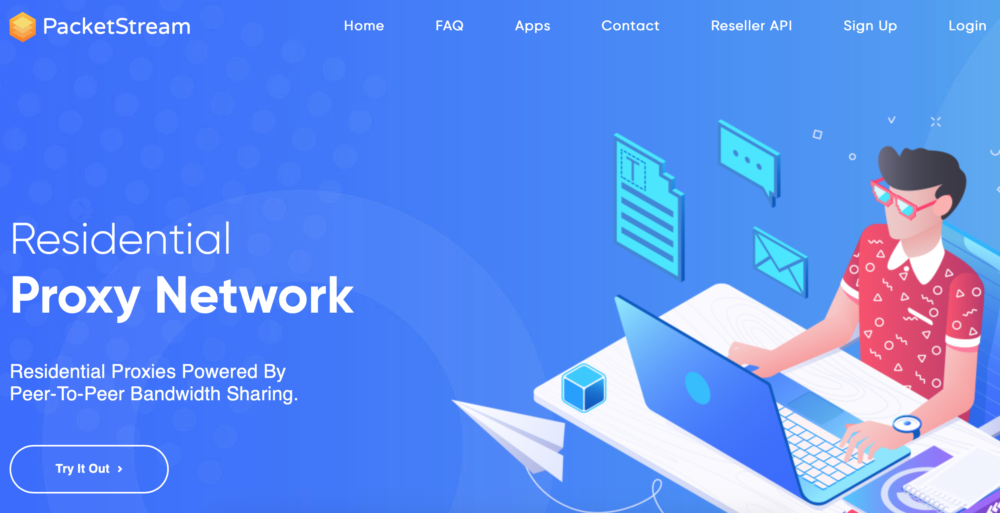 PacketStream is a bandwidth-selling company that has over 7 million sellers and 5000 buyers. The company's app is compatible with Windows, Linux, and Mac devices.
Sellers can expect to make about $0.10 per gigabyte of data shared, which is a lower pay rate than the other bandwidth apps we've covered. However, we appreciate the low payment threshold of $5—once you reach it you'll be able to withdraw your earnings through Paypal for a 3% fee.

PacketStream is serious about security and encrypts all network signals to protect your personal information. The company also monitors clients' activity and automatically deletes accounts that violate the terms of service.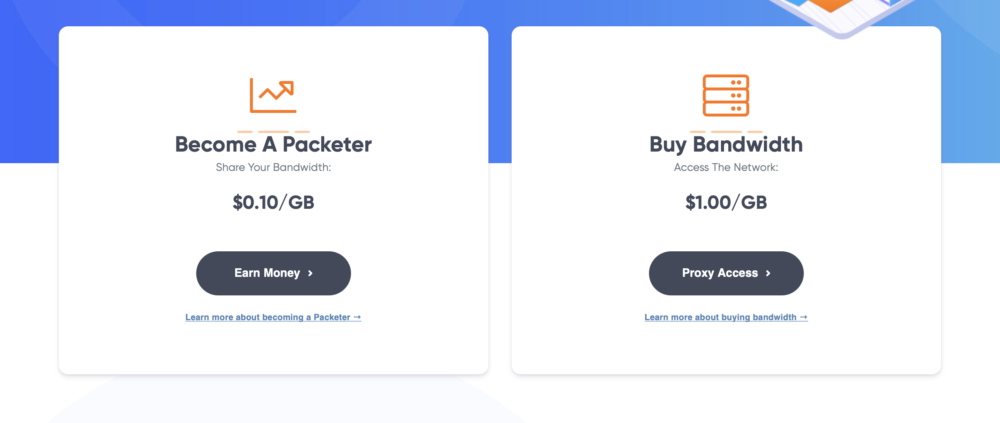 Packstream assures sellers that they won't be liable for anything that customers do on their networks. PacketStream's commitment to security is reflected in its high Trustpilot score of 3.8 stars. Although that's slightly lower than IP Royal's score, Trustpilot still classifies it as a "great" rating.
Are Bandwidth Selling Apps Worth It?
In our opinion, bandwidth-selling apps are definitely worth trying out. You have to pay a flat monthly fee for internet regardless of how often you use it. Instead of letting your internet sit unused while you're sleeping or at work, you can rent it out and make money to offset your WiFi bill. And best of all, selling your bandwidth doesn't require any effort—it's a completely passive way to earn some extra cash.
Have you ever tried bandwidth-selling apps? Let us know in the comments section below!
Read More:
38 Easy Ways to Make Money on the Side
Utilize Artificial Intelligence To Make Money
Make Money From A Huge Vacant Lot
Vicky Monroe is a freelance personal finance and lifestyle writer. When she's not busy writing about her favorite money saving hacks or tinkering with her budget spreadsheets, she likes to travel, garden, and cook healthy vegetarian meals.


[ad_2]
Source link