Unity Software Inc. (NYSE: U) stock hit an all-time high of 210 USD on 18 November 2021. However, it began a downward trajectory thereafter. By November 2022, the shares had lost 90% of their value, tumbling to 21 USD and trading in the range of 20 to 50 USD per unit ever since. What triggered this sharp decline in the stock's value? Why is the company planning to introduce developer fees? How has its financial performance changed in 2023? We aim to answer these and other important questions in today's article.
Unity Software in brief
Unity Software Inc. is a US company that provides the Unity software platform for creating and operating real-time interactive 3D content. This platform is employed to develop games, simulations, animation, and various other content for smartphones, tablets, laptops, computers, game consoles, and other devices.
In addition, the corporation offers cloud services and solutions tailored for developers and game publishers. According to its website, at the time of writing on 18 September 2023, Unity Software Inc. has a presence in 45 countries worldwide with a workforce of 7,700 employees.
Participate in the RoboForex partner promotion with a total prize pool of 1,000,000 USD! Click on the banner to learn about the participation conditions and join the cash prize draws.

Why Unity Software stock dropped by 90%
As mentioned above, Unity Software Inc.'s stock saw a staggering 90% decline from November 2021 to November 2022 inclusive, plummeting from 210 USD to 21 USD. On 9 November 2021, the company released its Q3 report with financial performance exceeding expert expectations. In addition, on the same day, it announced the acquisition of Weta Digital visual effects studio for 1.63 billion USD.
However, Unity Software Inc. was operating at a loss during that period, which is why the management decided to raise funds for the acquisition of Weta Digital by issuing 1.5 billion USD in convertible bonds and partly covering the cost with its own shares. It is worth noting that this move led to an increase in the corporation's debt load. On 17 November 2021, the company announced the pricing of the bonds, and on 19 November, when the funds were raised, the stock went into a prolonged decline.
The company released its Q1 2022 results on 10 May 2022, reporting record revenues but a poor outlook for the subsequent two quarters. On the same day, it became known that there were technical glitches within the platform that affected revenues, specifically inaccuracies in targeted advertising.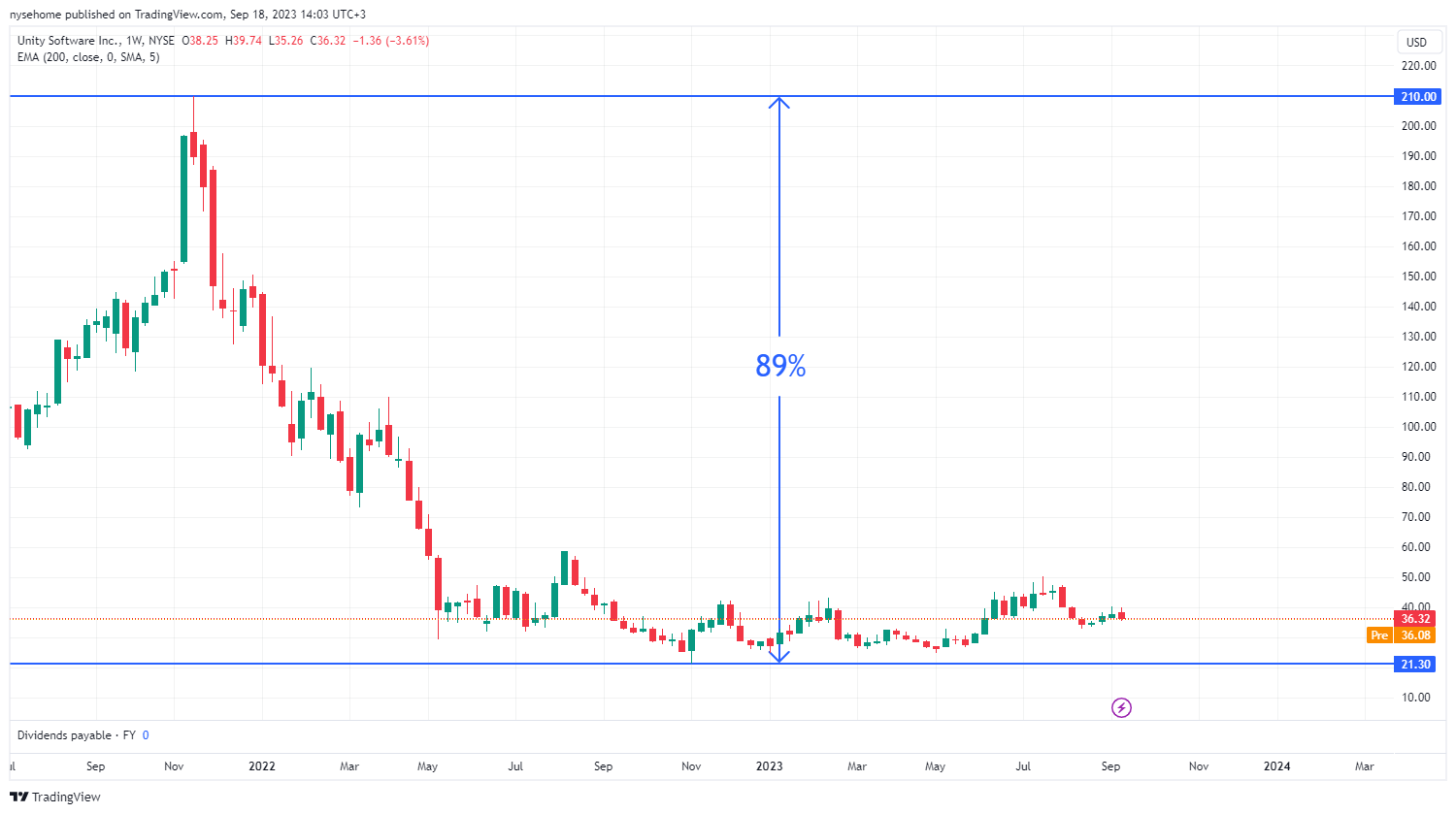 Unity Software Inc. revenues for Q2 and Q3 2022 fell short of the projected values, causing the stock price to hit its lowest point of 21 USD in November 2022. The situation began to change in Q4 2022 when revenue surpassed expert forecasts.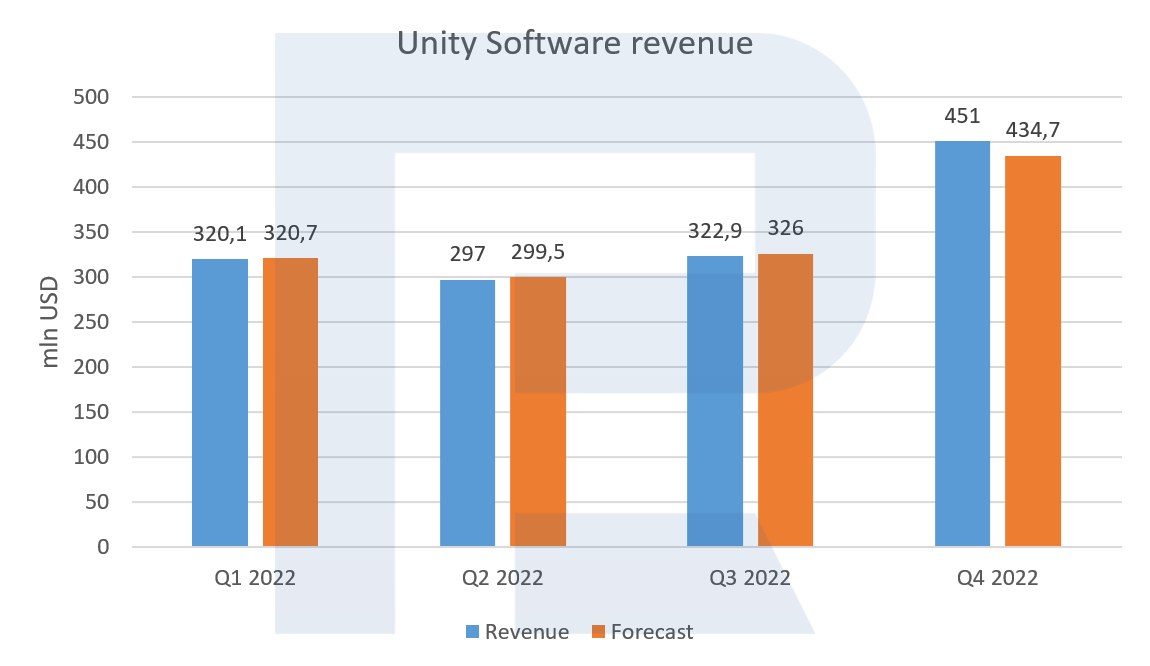 Want access to a wide range of trading instruments, convenient charts, and a free trading strategy builder? Try out the highly functional R StocksTrader trading terminal. Open an account and start trading today!

Unity Software report for Q2 2023
Unity Software Inc. released its Q2 2023 report on 2 August 2023. Revenue for April to June increased by 80% from the corresponding period of last year, reaching 533 million USD while net loss decreased by 5% to 193 million USD.
The revenue stream is divided into two primary segments:
Create Solutions – this segment comprises sales of licences and subscriptions for the Unity game engine and its related tools. Quarterly revenue for this segment rose by 17% to 193 million USD
Grow Solutions – this is the sale of cloud services and solutions for developers and game publishers. In Q2, this segment's revenue skyrocketed 157%, reaching 340 million USD. The driving force behind this surge is the elevated demand for AI tools in game development
How investors reacted to Unity Software's plans to introduce developer fees
On 12 September 2023, Unity Software Inc. announced plans to introduce a developer fee – the Unity Runtime Fee. Starting from 1 January 2024, this fee will be imposed when a project achieves a specific revenue threshold in the last 12 months and exceeds a predetermined number of game installs.
Thresholds for Unity Personal and Unity Plus:
game revenue in the last 12 months – starting from 0.2 million USD
lifetime game installs – starting from 0.2 million
Thresholds for Unity Pro and Unity Enterprise:
game revenue in the last 12 months – starting from 1 million USD
lifetime game installs – starting from 1 million
The fee will vary depending on the developer's Unity licence but will not exceed 0.20 USD per install. The corporation intends to allocate the funds raised towards improving existing products and developing new ones. The company stated that it would introduce new features and services to its subscriptions without additional charges, including cloud-based asset storage, Unity DevOps tools, and AI capabilities.
Following this news, Unity Software Inc. faced a barrage of criticism from developers, which resulted in a 5.52% drop in its shares on 13 September to 36.82 USD per unit. The next day, the figure declined by an additional 3.01% to 35.71 USD per share.
Unity Software real-time stock chart
Unity Software stock analysis
Unity Software Inc.'s shares have been trading around the 200-day Moving Average, indicating an absence of any trend. Since May 2022, the stock quotes have been moving within a range between 25 and 50 USD.
A breakout of the upper range limit at 50 USD may signal an emerging uptrend. Until then, the quotes may continue moving within the set limits, testing the support level at 25 USD and the resistance level at 50 USD.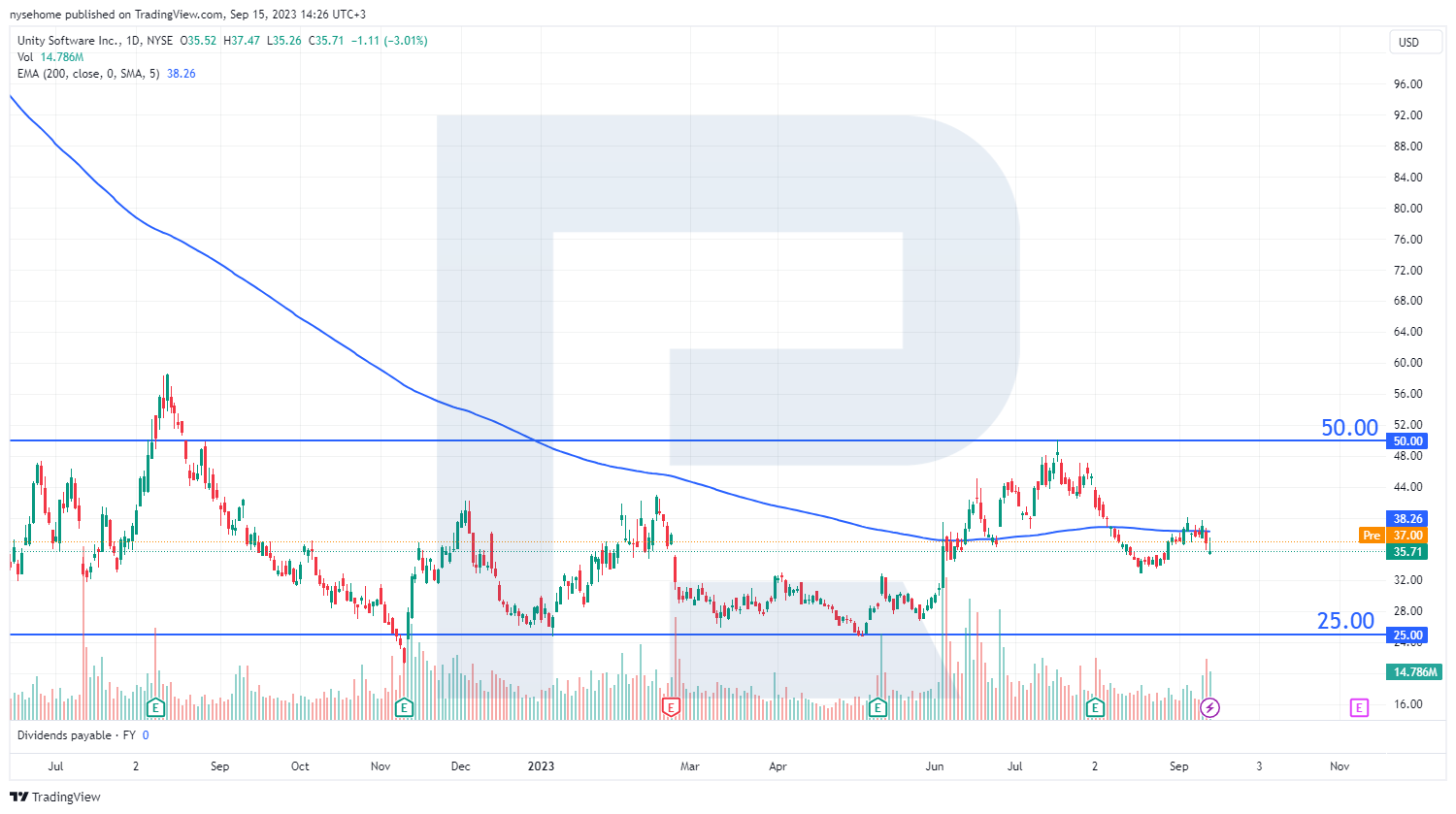 Don't miss the chance to get some of the best trading conditions in the market with a Prime account from RoboForex. Low commissions, spreads from 0 pips. Click on the banner to open an account!

Summary
From November 2021 to November 2022 inclusive, Unity Software Inc. saw a substantial 90% decline in its stock price, dropping from 210 USD to 21 USD. However, in early August this year, the company reported an impressive 80% increase in revenue for Q2 2023.
Furthermore, according to Marketwatch, analysts raised their ratings for the tech stock on 15 September 2023 with 19 experts giving it a Buy recommendation and only 2 analysts advising selling. Given this information, the company shares are likely to have the potential for growth by the end of the year.
However, it is important to note that a sustained upward movement of the stock's value depends not only on the introduction of developer fees and adjustments to subscription rates but also on the creation of new avenues for revenue growth, such as entering new target markets.
Source link