[ad_1]
The GBP pairs have been very active since PM Liz Truss came to power. Last week she fired her Chancellor of the Exchequer. On Friday, the Bank of England's emergency bond buying program ended. The newly appointed Chancellor of the Exchequer, Jeremy Hunt is trying to prevent further damage to the GBP. The Conservative Party is scrambling to determine what is next for PM Truss, who has severely damaged the strength of the country's currency and investor confidence.
Needless to say, the GBPUSD has been very volatile of late and today with a very weak USD, to begin the week, the pair made a series of higher lows and a long was taken early in the U.S. session overlap – risking 28 pips for a potential 88 pips to our daily target at 1.1401.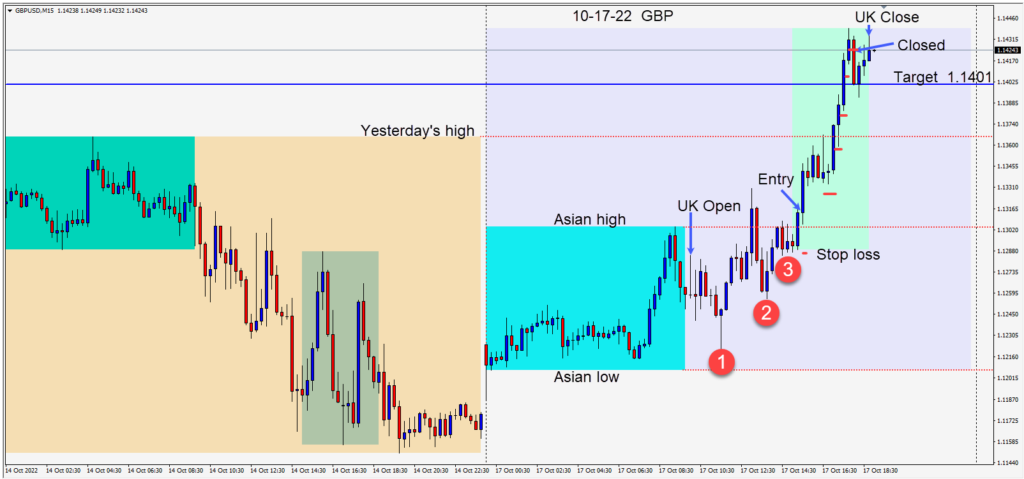 The pair moved higher on this light economic release trading day. The USD continued to weaken through the session and the major pairs, with the exception of the JPY, traded higher against it.
We protected our profits as price continued higher – especially as price moved above our daily target. The first pullback from above our target closed the trade. Keeping stop losses and profit stops tight on countertrend trades is very important as they can end abruptly. This is especially true of the higher octane GBPJPY.
Good luck with your trading!
[ad_2]